ABC Legal constantly improves your service of process experience, releasing upgrades and updates to the platform every 2 weeks. We've selected a roundup of the major updates to the platform this year that can impact your cases and metrics in a short series.
Last week, in Part I, we explored major updates you can see in your customer account at secure.abclegal.com/abc/login.html. This week, we're diving into updates to the additional tools and programs that are supporting your service of process experience.
So far in 2022, some of our favorite updates in this category have been:

Confirm Venue In More Locations For Collections: Court Venue Search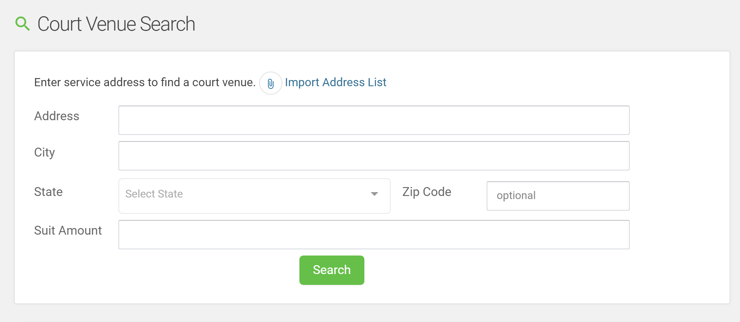 Confirm venue for collections and small claims cases in 25 states.

Court Venue Search is great tool if you're doing a lot of small claims and collections work. In these cases, the address of the party being served has real impact on which venue is appropriate. However, the jurisdictions for these cases in select states are some of the trickiest to determine. We want to make determining venue easier for these cases. Court Venue Search does just that, aligning the service address with venues we've carefully mapped based on research with courts across the country.
Platform Changes
Court Venue Search is available in the "New View" version of your account, under Reports & Compliance. It's refreshed with a smoother interface and a simpler process for reviewing information about cases in bulk.
Expanding Coverage
We now have venue selection in 25 states. We've added a state since our webinar in June---Tennessee. Alabama, Arkansas, Arizona, California, Colorado, Florida, Georgia, Illinois, Maryland, Michigan, Minnesota, Mississippi, New Jersey, Nevada, New York, New Mexico, Oklahoma, Oregon, Pennsylvania, Rhode Island, South Carolina, Tennessee, Texas, Washington, and Wisconsin.
Redistricting
We regularly update Venue Search parameters. With feedback from more than 1,600 courts weekly, we're always on top of what works where. For example, we completely remapped our venue selection in Texas at the start of the year to align with the 2022 precinct redistricting.
Enabling Service of Process By Supporting Process Servers: ABC Mobile+eSign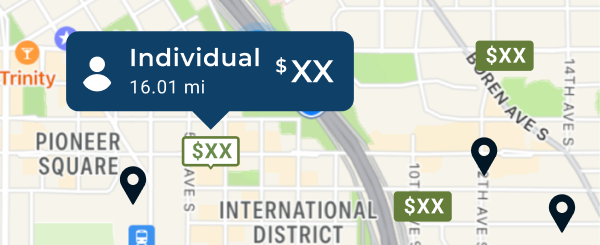 Process servers are able to see and claim jobs with far greater flexibility, empowering them to make the best possible choices as they take on new cases.

ABC Legal is more than a service of process provider. We're a service of process solution, creating great experiences for legal professionals and process servers. Enabling process servers to do their best work means that they can focus on your case and get the job done quickly.
Optimizing Service of Process Through ABC Mobile
We've made some exciting updates to ABC Mobile, the app that helps process servers focus on providing the best possible service of process. Recent changes to the app have improved the ability of process servers to take on our customer's jobs quickly and make the attempts needed to meet diligence requirements.
The app has also gotten a serious redesign, pushing the interface and functionality forward, centering the experience around what process servers need to get their job done.
Learn more about these changes here.
Increasing Efficiencies For Proofs of Service
ABC Legal has always provided rock-solid and technologically-advanced evidence for service of process. We're proud of our return of service and want to ensure it gets to you as quickly as possible. This year, we made signing proofs easier for our team, creating our own in-house application for digital signatures that's specifically optimized for process servers and the mobile app. It's helping process servers complete proofs to keep your case in motion.
Searching for Impact: Enterprise Programs
For our high-volume clients, we have a selection of programs available that focus on improving and evaluating key metrics like service rate, to optimize service of process at scale. Ask us about any of these programs if you'd like to learn how they align with your current caseload, and if they could drive improvements for your account.
Locate Services: Programs You Should Check Out
Our Locate Services are superb. ABC Legal is a licensed investigations firm with data at our disposal to help you get your cases served. For high-volume firms, we've created several optional programs that can make a real impact on service rate. After all, when dealing with high volme casework, you need highly automated solutions that can help pick up where standard methods leave too much on the table.
Re-Skip
Opt-in so qualifying jobs, open for 90+ days get an additional trace to look for information about moves. This can help get documents served when records take time to update.
Pre-Suit Skip™
Confirm you have the best service address with Pre-Suit Skip™ before starting the paperwork. Send preliminary data to our teams for review and catch outdated addresses before you start the paperwork for filing or service of process.
Deep Skip
Have a certified private investigator performs a deep search and analysis for your case. This is especially useful for collections cases and provides additional evidence to support what steps you take next.
Ask your account manager about any of these programs to learn more.
More Automations For Alternative Service
Enable workflows that will automatically enable your case to move forward when encountering common situations that require alternative service of process.
When you're trying to perform service of process in states with specific processes for enabling alternative methods of service, you often have to jump through hoops, checking the same boxes each time to get court approval. It involves a lot of repetition and known information, and it's something we've come to handle in an automated fashion.
There are some restrictions based on local laws and case types, but overall, these automations reduce the time your team spends on unfulfilling paperwork. We've got processes to speed up alternative service in states like Texas, Illinois, Georgia, New York, Arizona, California, Florida, Maryland, Michigan, Oregon, South Carolina, and Washington. These processes make the most of the data you've provided, and we've collected along the way, to get the paperwork you need to move your case forward to court.
Learn more about alternative service, specific workflows in Texas, and other alternative service programs at ABC Legal. If you are interested in this update, this feature is one where you'll want to call and talk to your account manager or a client success representative to discuss it further and to see which of your cases could be eligible to benefit from one of these workflows.
Special Performance Analyses For Enterprise Customers
Our teams are constantly looking to improve service of process for our customers. This includes reporting that you don't always see in your Dashboard. Internal analyses and trend reporting to ensure that we're delivering the latest and greatest service to as many of our accounts as possible. We compare service rate and other performance metrics to assess overall account performance for clients with especially high volumes, looking at the health of the account in isolation and in comparison to our other clients.
Please reach out to your account manager or a customer success manager to learn more. If you're heavily invested with us and are not getting all of the information you need for your long-term success, let us know.
Get More From ABC Legal
Staying up-to-date and keeping a handle on all the updates in the platform can help you maximize your service of process experience. We're always making updates (there's a release every two weeks and major updates quarterly) and want to be sure that you and your team are empowered. We'll be adding some additional communications regarding our updates by email and on our blogso that more of our customers can make the most of their time with us. Alternatively, you can sign up for our digital events series: Tech Tuesday.
.

They're short, 20-minute sessions where one of the experts at ABC Legal shines a spotlight on key features and product updates you and your team should know about to get the best possible service of process experience.


Please reach out if there's something you'd like to see in the platform or if there's a new feature you want special training on for your team.
Have a product or feature idea? Email suggestions@abclegal.com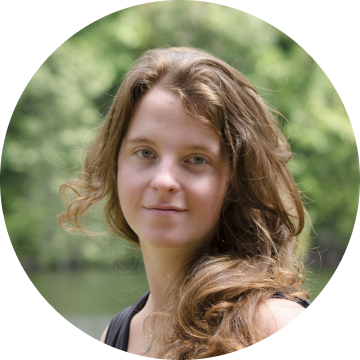 Written by
Heather Thomas
Product Marketing Manager, ABC Legal Services. Heather combines her natural curiosity and organizational skills to develop content and nurture stories at ABC Legal. A believer in good design and great brand experiences, she looks for opportunities to investigate, design, and create within the brand.
Subscribe to email updates