PRODUCT UPDATES
File by API in Indiana
ABC Legal is now a certified electronic filing service provider in Indiana and is submitting e-filings directly to Indiana courts without requiring customers to complete web forms. This means lower costs, fewer rejections, and faster e-filings. Need help e-filing in Indiana? Contact Us.
Stop Preventable Bad Addresses
Did you know that ABC Legal fixes misspelled, partial or malformed service addresses so you don't waste time or money attempting service at addresses that don't event exist? We do and have for several years. Our recent upgrades make the process even faster and more reliable by leveraging the same technology that enables our service probability predictions to correct typos, bad formatting, and other small stuff that might keep a process server from finding the right service location.
Check Process Server Training History
You can now check your process servers' training history—including our Covid-19 Safe Service Procedure—from your compliance dashboard. As always, our assignment algorithm ensures every process server who interacts with your cases meets our strict requirements for licensing, prior performance and mandatory training.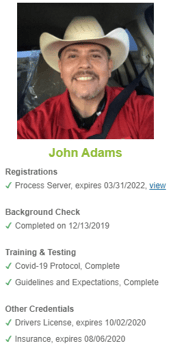 1,000 trials of the New ABC Legal Dashboard
Earlier this year we announced the beta launch of a new ABC legal dashboard focused on saving you time. During the beta, one thousand legal professionals have used the new dashboard and we've incorporated their feedback to make the site even easier to use.
The new dashboard will become available to every ABC Legal customer during the summer of 2020.
_____________________________________________________________________
Product Updates is our semi-weekly update that highlights recent product enhancements, process service and e-filing improvements so you can easily stay up to date on what's new at ABC Legal and in the legal service of process industry.
This week we deployed improvements to help you stop preventable bad addresses, e-file by API in Indiana, check your process servers' training history. Plus, we'll share an update on the new dashboard undergoing beta testing.
Subscribe to email updates