Our product team is proud to announce the launch of a brand new ABC Legal dashboard. We redesigned your experience with one goal in mind: saving you time.
We think you'll find the new site faster and easier to use. Plus, it works great on your tablet or phone for the times you find yourself working away from your desk.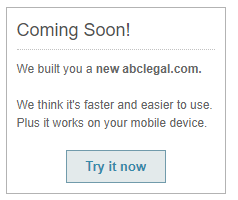 Starting today, certain ABC Legal customers will see the option to switch to the new website (pictured). Additional customers will see the option to switch in coming weeks.
We can't wait for you to try the new site and tell us what you think.
If you don't see the Try It Now button on your dashboard yet and want to among the first customers to see and give feedback on the new design, you can reach out to me directly at seanl@abclegal.com.
Case Detail Page from the New ABC Legal Dashboard:

Sean started working at ABC Legal Services in 2005 and has managed several teams including customer service, product management, process improvement, software development and marketing. Sean's objective at ABC Legal is to save legal professionals time.
Subscribe to email updates