Last week in "Between the Lines", we provided an overview of service of process and process servers, as well as ABC Legal Services' role as a provider of service of process. ABC Legal Services connects clients to a network of process servers distributed throughout the United States and beyond. To provide the best experience possible for both consumers and process servers within the network, ABC Legal has developed an app for process servers.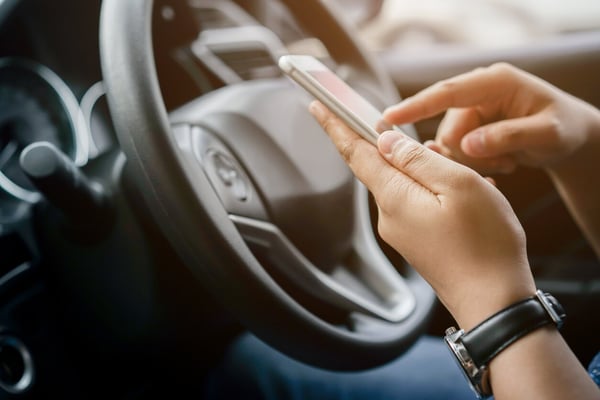 This week, "Between the Lines" will dive into the process server app. We'll start with an overview of the process server app, highlighting the functions and technology that define and differentiate service of process through ABC Legal Services. Next week, we'll continue our exploration, with a closer look at how the app can redefine the experience of serving papers for ABC Legal process servers.
Benefits of Tech-First Thinking
ABC Legal Services provides legal services and technology solutions for its clients. The company values efficiency, transparency and accuracy and hopes to extend these values across all areas of our work and within the business. The app incorporates these values with technology, one of ABC Legal Services' strengths as a legal services provider.
The app sets the stage a unique and dynamic experience for both clients and the process servers. The app is exclusively for ABC Legal Services' process servers; however, the data from the app is what clients see when they login into the customer portal to check on the status of service of process orders. ABC Legal has been able to build in functionality and key features for the app to simplify what it means to provide service of process. The app connects clients to real-time data keeping communications quick and transparent.
Benefits of Key App Functions and Features
Key concepts for the framework of the process server app are job organization, job consolidation, caseload management, map integration and scoring dynamics. A primary benefit of the app is its ability to help process servers organize their workloads and focus on service.
Keeping Process Server Jobs and Job Data in One Place
The ABC Legal process server app is a convenient and portable organization tool. It provides process servers with a single location to store jobs, notes, images, job locations, related documents and payment history. The app can be installed on mobile devices or tablets, allowing servers to take this information wherever they go - and access it quickly. Process servers can use the app for end-to-end management of their jobs. In the app, process servers can access open jobs in their area that have not been claimed, accept or reject potential work in their area and check on job locations and potential route options. They can also submit data about their jobs, see their job or payment history and complete the proof of service (or get it ready for signing, depending on state requirements).
The app makes use of the systems and technologies integrated within the phone to enhance the process server's ability to easily catalog additional data about their job. For example, process servers can take photos while on a job, to validate service completion, the documents served, or information about the service attempt and have them be immediately associated with the job. Additionally, there are location-based requirements in service of process. Our app uses the GPS in a process server's phones to validate location when service is attempted. These features are especially useful when process servers want to catalog service attempts that meet local requirements.
Automating The Proof of Service
In addition to the GPS and image capabilities of the app, ABC Legal has worked to streamline the process of recording evidence that a proof has been served by largely automating proofs of service. Within the job, there are automated prompts that guide servers to record notable experiences during the service to help confirm proper service. This data can be used to create the proof of service as well as validate service if it's called into question. When a process server completes a job they can swipe through a list of features that categorize and contextualize their service attempt by selecting details about the status of an address or attempt, proof of residence and the physical attributes of the person being served the legal documents.
The selections a process server makes will be formatted into a proof of service based on the requirements of the state they are serving in. Where allowed, a preferred proof of service designed by the ABC Legal Services team is generated. In areas where there are specific local requirements, the app autofills the form as much as possible. The proof is available to e-sign where electronic submission is available ,allowing servers to finish service with just a few clicks. Additionally, proofs can be printed for signature or notarization, and submission by email or mail as allowed by state regulations. In cases where clients have their own unique proof, that documentation is included within the documents related to the case. The process server is able to access, complete and submit those alongside the ABC Legal proof of service.
For more on why proof of service is important, check out our last post which explains more about service of process.
Confirming Service Attempts
ABC Legal deals with service of process on a national scale and can, through the use of technology, validate service of process. This enables ABC Legal to ensure that service of process is completed to the highest of industry standards. ABC Legal process servers excel at finding people at a given location. The detailed prompts and location confirmation ability of the app allows process servers and ABC Legal to have combined confidence in service of process.
Working with the investigations team and location services, they are able to validate a defendant's location or determine if the defendant does not reside at an address. With the app data to support service attempts, ABC Legal is able to confirm that process servers have attempted (to the best of their ability) to serve the papers and rewards them for diligence. ABC Legal will pay process servers for a job if they can conclusively demonstrate diligence, even if documents need to be served at another location. This attitude ties into the consistency in pay seen by process servers who work with ABC Legal Services, an added benefit of working with the company.
Letting Process Servers Focus on Serving Papers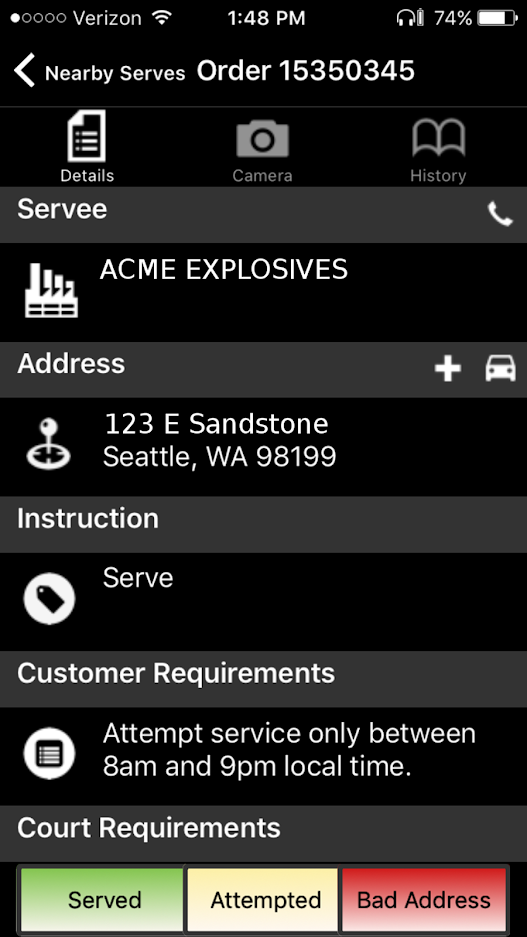 Example of the ABC Legal Process Server App
An added bonus for many process servers is found in the focus on service that the ABC Legal app provides. ABC Legal Services takes care of many of the operational and court-related tasks that can slow down a process server. In states where it is allowed, the app keeps the documentation aligned so that electronic filing can be used before and after service in a consolidated fashion. ABC Legal process servers spend less time around courts and more time in their area of specialty, physically serving papers and interacting with defendants.
Enhance your Service of Process
The ABC Legal process server app is a unique organizational tool that allows servers to manage the documentation of their service of process. It allows process servers to:
Efficiently reference all documents related to a case.
Quickly store and send data, such as location information and on-site images to document proper service.
Simply serve the legal documents and let ABC Legal Services and the app take on many of the operational burdens typically associated with service of process.
This technology creates a feedback system for the legal professionals, paralegals and attorneys serving papers through ABC Legal, enabling them to see progress on their cases. This technology enables transparent and quick interactions between process servers and the parties seeking to have their papers served. Ultimately, the app provides bulletproof service that will hold up in court.
Check back next week to learn more about the process server app. I'll dive further into the benefits of the in-app features, focusing on the process server map and process server scores. "Between the Lines" is meant to inform and empower your decisions around legal tech and help you get to know the people and processes powering ABC Legal Services' products and services. Subscribe to the blog to stay up-to-date with our products, legal services and the legal tech industry.
About ABC Legal Services
ABC Legal is the nation's leading service of process and court filing company and is the official process server to the U.S. Department of Justice. Docketly is a subsidiary of ABC Legal, providing appearance counsel on a digital, custom-built platform that smoothly integrates with our applications and services. ABC Legal's applications are cloud-based and compatible for use on desktop, browser, and smartphones. Our solutions and digital approach ensure process server partners, law firm customers, and their clients save valuable time and resources when serving legal notices safely and with maximum compliance, control, and transparency. ABC Legal is based in Seattle, WA, with more than 2,000 process servers throughout the U.S., as well as internationally in more than 75 countries. To learn more about ABC Legal, our solutions, and subsidiary company Docketly, visit www.abclegal.com.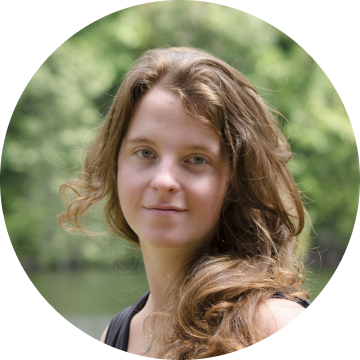 Written by
Heather Thomas
Product Marketing Manager, ABC Legal Services. Heather combines her natural curiosity and organizational skills to develop content and nurture stories at ABC Legal. A believer in good design and great brand experiences, she looks for opportunities to investigate, design, and create within the brand.
Subscribe to email updates