ABC Legal is now open for service of process in Arizona, Arkansas, Georgia, South Carolina and Washington.
Services in Alabama, Idaho, Oklahoma, Oregon and Tennessee will reopen on Tuesday, May 5th. We anticipate full or partial reopenings in Colorado, Florida, Indiana, Missouri, Mississippi and Texas soon.
---
Today, many firms have suspended jobs pending a decision to resume or not. As more locations meet our 3 requirements for safe and responsible service, firms will be able to decide whether and when to resume service additional service jobs.
When to resume in each location where ABC Legal has reopened is in your control.
Process servers in our reopened states have been trained and certified to support our new safe service procedures and we have determined that our process servers will not themselves face fines or penalties while serving.
Some of our customers are cautiously making the judgment call to serve certain types of work. As an example, the US DOJ may elect to continue. If you and/or your clients are concerned then wait until those concerns subside. We are here to support you with safe service when you are ready.
The following are taken from our Covid-19 Frequently Asked Questions: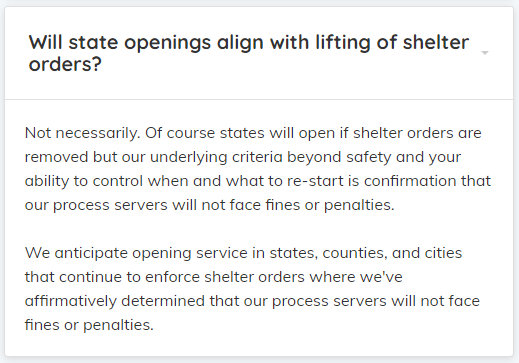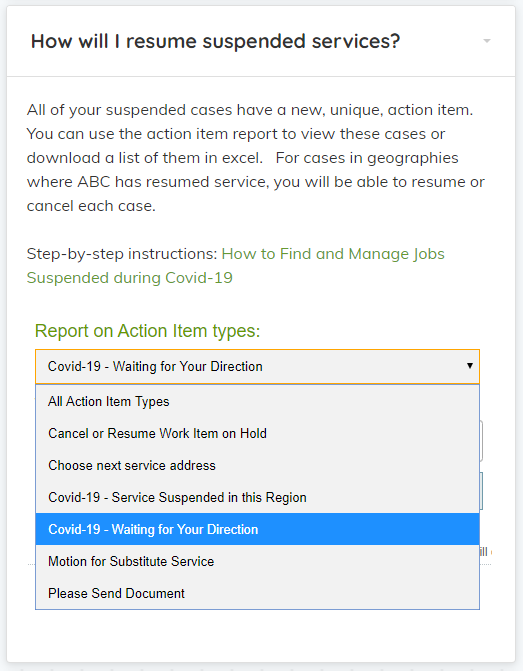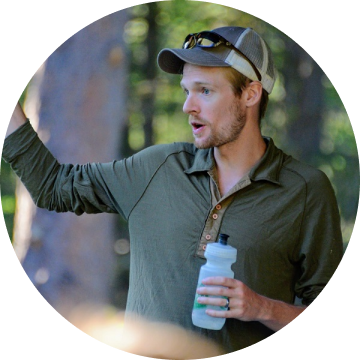 Written by
Sean Lee-Siebels
Sean started working at ABC Legal Services in 2005 and has managed several teams including customer service, product management, process improvement, software development and marketing. Sean's objective at ABC Legal is to save legal professionals time.
Subscribe to email updates