Yesterday we reported on the recent Department of Labor unemployment report, showing jobless claims up slightly this week to 870,000 from 866,000 a week earlier.
Today, Friday October 2nd the Bureau of Labor Statistics reported the US added 661,000 jobs in September. This number is well below the 859,000 payroll additions expected by economists surveyed by Bloomberg. The unemployment rate fell to 7.9% last month, from 8.4% in September. However, this is slightly better than the 8.2% slide economists had expected. It's important to note, this most recent report marks the fifth straight month of job growth since last April when COVID-19 began to drive historic losses.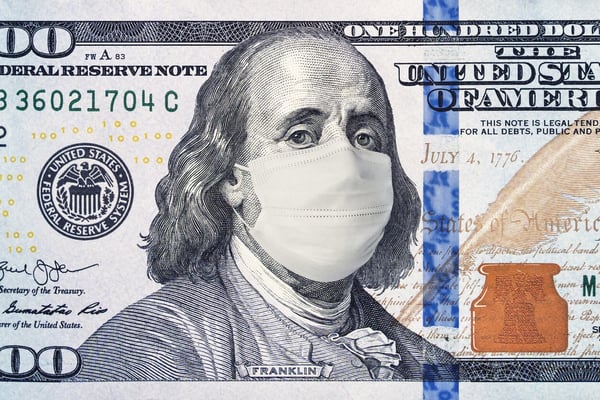 While the unemployment rate has steadily trended lower, several signs point to the US economic recovery weakening. Job growth in September slowed significantly from the revised 1.5 million jobs added in August of this year. While the economy did add back more than 1 million jobs every month between May and August, the job count in the US is still down 10.7 million jobs since February of this year, right before the wave of Covid-19 hit the US.
Below are the main take-away points from the release, compared to consensus estimates as compiled by Bloomberg on Yahoo Finance:
Change in non-farm payrolls: +661,000 vs. +859,000 expected and +1.489 million in August
Unemployment rate: 7.9% vs. 8.2% expected and 8.4% in August
Average hourly earnings, month over month: 0.1% vs. 0.2% expected and 0.3% in August
Average hourly earnings, year over year: 4.7% vs. 4.8% expected and 4.6% in August
Labor force participation rate: 61.4% vs. 61.9% expected and 61.7% in August
COVID-19 Outbreak at the White House
As the roller-coast of news continues, we found out Thursday evening, when Bloomberg News broke the story that Hope Hicks actually tested positive for COVID-19 on Wednesday of this week, that the POTUS and FLOTUS have also now tested positive for the virus. Many experts agree this poses a tremendous national security risk as White House staff and a growing number of politicians in Washington have to themselves quarantine, or have also tested positive for this virus.
Stimulus Talks Continue
This news comes at the same time the House of Representatives passed a $2.2 trillion partisan Covid-19 relief bill Thursday night. Negotiations between the administration and Democrats have continued and some see the news of the POTUS testing positive for COVID-19 as having a potential impact on these talks, as the president is reported to have inquired on the status of these talks early Friday morning from his personal residence at the White House under quarantine.
Late Thursday evening October 1st, NBC News reported, Pelosi told reporters in the Capitol that she spoke to Mnuchin multiple times this Thursday, but that there was no deal yet. Asked if one was possible, she said, "I don't know. It just depends." The same report by NBC News continues, "she [Pelosi] said that the details matter just as much as how many dollars are being spent, which is an indication that they could be further along in negotiations than they are letting on."
COVID-19 Is Calling the Shots
As pandemic stimulus relief bills one after the other continue to fail in Washington, DC, the ability to pass a new relief measure ahead of November's election is slipping away. The financial news of the week from The Labor Department, to the Bureau of Labor statistics, as well as the current COVID-19 outbreak sparing no one, not even the highest office in our nation, servers as a reminder that COVID-19 continues to call the shots in every single financial market and recovery effort, make further in-roads into our vulnerable political elections and relentlessly spare no one from it's viral reach.
About ABC Legal Services
ABC Legal is the nation's leading service of process and court filing company and is the official process server to the U.S. Department of Justice. Docketly is a subsidiary of ABC Legal, providing appearance counsel on a digital, custom-built platform that smoothly integrates with our applications and services. ABC Legal's applications are cloud-based and compatible for use on desktop, browser, and smartphones. Our solutions and digital approach ensure process server partners, law firm customers, and their clients save valuable time and resources when serving legal notices safely and with maximum compliance, control and transparency. ABC Legal is based in Seattle, WA, with more than 2,000 process servers throughout the U.S., as well as internationally in more than 75 countries. To learn more about ABC Legal, our solutions, and subsidiary company Docketly, visit www.abclegal.com.

Head of Marketing at ABC Legal Sevrices. Tonya leads the ABC Legal marketing efforts including branding, demand generation, digital marketing, communications and product marketing, with a focus on continuous revenue growth for ABC Legal. She brings 20 years of experience in marketing and e-commerce leadership from companies such as Intrado and CareerBuilder.
Subscribe to email updates