In theory, changes enacted by U.S. Courts are meant to increase access to the justice system and ensure due process is balanced and just. On August 27, 2020 the Illinois Supreme Court, in an effort to further ensure due process for all, ordered a 30-day mandatory summons for all small claims cases.
In Section 2(b), the order specifies the following language must be included on the summons:
"You have been named a defendant in the complaint in this case, a copy of which is hereto attached. You are summoned and required to file your appearance, in the office of the clerk of this court, within 30 days after service of this summons, not counting the day of service. If you fail to do so, a judgment by default may be entered against you for the relief asked in the complaint."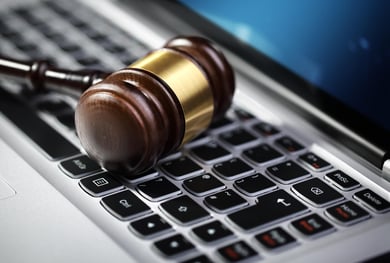 What is the Limit for Small Claims?
This action pertains to money not in excess of $50,000, exclusive of interest and costs, and actions subject to mandatory arbitration where a local rule prescribes a specific date for appearance.
Is E-filing Mandatory in Illinois?
Looking to further increase access to the courts, Illinois enacted mandatory e-filing back in 2018, enabling people without an attorney in civil cases to submit legal documents from a computer instead of physically doing so at the local courthouse. At the time of this change, many paralegals and attorneys worried this platform would be too confusing and not user-friendly enough for those filing motions on their own. E-filing remains mandatory in Illinois, with limited exemptions.
What Types of Cases are Handled in Small Claims Court?
Small claims, such as self-represented litigant and small claims one tier of regular civil, based on dollar amount are two different things. Small claims court may be used only for certain types of cases.
Do Legal Professionals See this as a Positive Change?
"The order's stated purpose is to reduce unnecessary in-person court appearances and promote remote court appearances during the coronavirus pandemic," states Elizabeth Noguera, Account Manager at ABC Legal. Noguera further explains, "the terms of the order represent a significant departure from the former practice of being required to set specific hearing dates and encountering full calendars or unavailable dates, as well as keeping up to date with varying scheduling rules and procedures across counties. In short, this is a positive change for attorneys and for those maintaining attorney and appearance counsel schedules, while also protecting the defendant's rights. The order is limited to small claims cases only; other case types such as arbitration are still required to have a specific hearing date on the summons."
If you have questions about e-filing, serving a summons, service of process or other legal services and products offered by ABC Legal visit us here for more information or to request a demo.
About ABC Legal Services
ABC Legal is the nation's leading service of process and court filing company and is the official process server to the U.S. Department of Justice. Docketly is a subsidiary of ABC Legal, providing appearance counsel on a digital, custom-built platform that smoothly integrates with our applications and services. ABC Legal's applications are cloud-based and compatible for use on desktop, browser, and smartphones. Our solutions and digital approach ensure process server partners, law firm customers, and their clients save valuable time and resources when serving legal notices safely and with maximum compliance, control, and transparency. ABC Legal is based in Seattle, WA, with more than 2,000 process servers throughout the U.S., as well as internationally in more than 75 countries. To learn more about ABC Legal, our solutions, and subsidiary company Docketly, visit www.abclegal.com.
Subscribe to email updates