With ABC Legal headquarters located in Seattle, WA this year's unprecedented wildfire season has brought the dangerous and very real threat of massive, uncontrollable wildfires extraordinarily close to home. Couple that with the COVID-19 pandemic, a hurricane season kicking off with a record amount of named storms, and you've got a disaster scenario almost too unbelievable for the most fantastical Hollywood blockbuster.
Photo Credit & Pictured: Mark Vogler
Polar Expedition Guide, Travel Writer, Photographer, Explorer, and Friend Observing Wildfires over the Horizon in the Western U.S.
Yet, here we are. Each of us adapting, surviving and enduring. Considered essential workers, process servers are often alarmingly close to the front lines, navigating disaster after disaster to deliver process in the most extreme conditions. Even without the additional health concerns inflicted by the COVID-19 pandemic, personal service inherently poses certain challenges for process servers. The United States Federal Rules of Civil Procedure mandates that, in a legal suit, all defendants or responding parties must be notified via service of process.
"We're honestly taking it day by day," states Diana Boatwright, a process server with ABC Legal Services working in Marion County Oregon. Diana, a former firefighter, spoke with me about what it's like to work under these dangerous conditions and how she, and other process servers in the area are coping. "We're taking care of work, some places such as Mills City (were) an evacuation area, meaning no access. I have family members that are process servers too, we've all just kept working." Diana goes on to tell me her past career as a firefighter causes her emergency instincts to kick in, "I want to drop everything and go help." However, she has a new grandchild on the way. Her pregnant daughter, (also a process server) remains her top priority. "The air is really bad, roads are closed and Lane County in Eugene, OR is inaccessible."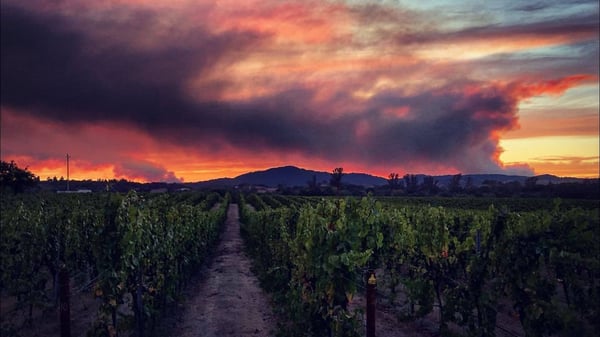 Pictured: Wildfires Burning across the Western U.S Credit: Mark Vogler
Diana goes on to explain how she handles her workload when fires prevent service from being delivered. Diana utilizes the ABC Legal mobile app for process servers, takes photos of road blockages, and explains these evacuation orders in every serve that is beyond reach, past the roadblock and inside the line of fire. She also depends on Laurice Averill, Portland Office Manager with ABC Legal Services, whom Diana credits having a deep respect and meaningful friendship with.
As heroic firefighters and first responders continue to battle these blazes, saving countless homes, structures and lives, process servers have been continuing to work diligently at delivering service in these hard-hit areas, under local evacuation orders and safety guidelines. If you are a process server faced with any kind of natural disaster, here's how to handle these scenarios:
No access to the service address: If it is unsafe for you to attempt, or if an area is being evacuated, stay safe instead of attempting. Utilize the ABC Mobile app in selecting the appropriate actions.
If you are unable to serve: Set yourself to "Away" in your profile and immediately reach out to ABC Legal by selecting "Support" in ABC Mobile app.
Safety comes first: Please know the safety and well being of our process servers and the communities they serve remain our top priority.
As the smoke clears and the fires are slowly extinguished, the impact of the 2020 wildfire season in the Western United States will continue to have lasting impacts on the millions of people and countless communities faced with this new, catastrophic reality. Disasters have a way of showing our society where our vulnerabilities lie, and reminding us of the immense responsibility we placed on those we consider, "essential". Yes, process servers, those blue-collar, hard-working, pavement-grinding human beings from nearly every walk of life imaginable fall well within this category.
Pictured: Wildfire Smoke Blanketing Washington and Oregon State from Above Credit: Mark Vogler
Thank you to all our irreplaceable first responders and essential workers, often charging towards danger to save lives and communities, as well as providing us with crucial services in the most challenging of times.
About ABC Legal Services
ABC Legal is the nation's leading service of process and court filing company and is the official process server to the U.S. Department of Justice. Docketly is a subsidiary of ABC Legal, providing appearance counsel on a digital, custom-built platform that smoothly integrates with our applications and services. ABC Legal's applications are cloud-based and compatible for use on desktop, browser, and smartphones. Our solutions and digital approach ensure process server partners, law firm customers, and their clients save valuable time and resources when serving legal notices safely and with maximum compliance, control, and transparency. ABC Legal is based in Seattle, WA, with more than 2,000 process servers throughout the U.S., as well as internationally in more than 75 countries. To learn more about ABC Legal, our solutions and subsidiary company Docketly, visit www.abclegal.com.

Product Marketing Manager, ABC Legal Services. Heather combines her natural curiosity and organizational skills to develop content and nurture stories at ABC Legal. A believer in good design and great brand experiences, she looks for opportunities to investigate, design, and create within the brand.
Subscribe to email updates