Featured at legalreader.com on September 17, 2020 Sascha Mehlhase, Vice President of Products and Innovation at ABC Legal Services, contributed an article on the trending topic of the gig economy and how it relates to the legal industry titled, "Bringing the Gig Economy to Legal Practices".
Highlighting the rise of the gig economy as a "well-deserved pillar in our nation's economy", Mehlhase emphasizes the recent growth and contribution of the gig economy to the national GDP at nearly $1 trillion dollars. Therefore, a rightful place has been earned by this industry, as expansion of the gig workforce is expected to grow over the coming years at an increased pace-including the legal sector.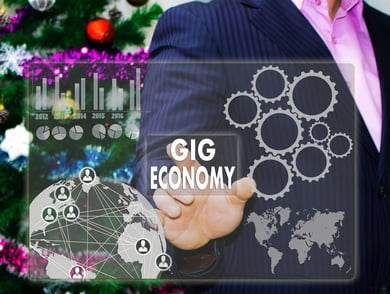 Mehlhase provides further expansion on the popularity of gig roles due to the global pandemic and resulting economic crisis. From this, new opportunities for businesses and professionals through the gig economy can further sustain their livelihoods.
Seen as a tool to pivot, Mehlhase discusses progressive technology as a means to maintain operations, while ensuring seamless continuity during uncertain times. Companies that are innovative will make the most of these opportunities while paving the way for additional legal professionals to access a skilled workforce and deliver services their clients demand.
To fully grasp this issue, Mehlhase reiterates the importance of understanding of the history of the gig economy--especially for legal professionals who are considering starting a gig role or partnering with gig specialists.
This history referenced by Mehlhase includes a 2018 landmark case in California (Dynamex Operations West, Inc. vs. The Superior Court of Los Angeles) as having a significant impact on the future of the gig economy in the state and California Assembly Bill 5 (AB5), popularly known as the "gig worker bill". These legal landmarks have had tremendous implications for how gig professionals can access work, especially as the U.S. employment market navigates continued turbulence.
Most of us know the names Lyft and Uber in the gig economy. Mehlhase writes about these ride-sharing professionals having a significant impact on the future of the gig workforce. An example given in the article is the ride-share leaders announcing a threat to "halt operations" in California unless the courts intervened on the AB5 verdict, which they did. Due to this legislative overhaul, process servers currently have a lack of clarity in CA around whether they can maintain contractor classification.
Mehlhase continues the article writing about agile technology companies harnessing SaaS platforms to offer industry-specific gig roles; and currently, the legal procedures best suited for the gig economy include alternative service, appearance counsel, e-filing, messenger service and service of process.
It's here that process servers have driven the recent surge in the legal gig economy thanks to the prominence of cloud-based legal platforms. Mehlhase adds, " expanded use of technology by the courts has allowed for increased use of e-filing as a legal service, offering greater speed and accuracy in accessing the judicial system."
In the conclusion, Mehlhase writes, "harnessing the power of the gig economy in the legal sector offers a more diverse group of skilled workers an added level of flexibility and accessibility".
In summary, equipped with new and emerging tools, legal professionals of all backgrounds and skill levels will be well-positioned to make the most of what the gig economy offers, as well as businesses seeking to survive and adapt to the tumultuous and shifting economic environment.
To read this article in its entirety, visit legalreader.com.
About ABC Legal Services
ABC Legal is the nation's leading service of process and court filing company and is the official process server to the U.S. Department of Justice. Docketly is a subsidiary of ABC Legal, providing appearance counsel on a digital, custom-built platform that smoothly integrates with our applications and services. ABC Legal's applications are cloud-based and compatible for use on desktop, browser, and smartphones. Our solutions and digital approach ensure process server partners, law firm customers, and their clients save valuable time and resources when serving legal notices safely and with maximum compliance, control, and transparency. ABC Legal is based in Seattle, WA, with more than 2,000 process servers throughout the U.S., as well as internationally in more than 75 countries. To learn more about ABC Legal, our solutions, and subsidiary company Docketly, visit www.abclegal.com.
Written by
Tonya Hottmann
Head of Marketing at ABC Legal Sevrices. Tonya leads the ABC Legal marketing efforts including branding, demand generation, digital marketing, communications and product marketing, with a focus on continuous revenue growth for ABC Legal. She brings 20 years of experience in marketing and e-commerce leadership from companies such as Intrado and CareerBuilder.
Subscribe to email updates