Welcome to ABC Legal's thought leadership interview series where we discuss relevant topics and trends with industry leaders and entrepreneurs, sharing their insight, knowledge and perspective on navigating through the post-Covid-19 business landscape.
As we posted on the blog last week, jobless claims are currently hovering just below 900,000 and major lay-offs were announced by United Airlines, Boeing, American Airlines, Disney and Allstate. We all know however, these are not normal times. The uncertainty in the job market shows us all that no job sector, from white-collar to blue, high income to low is immune to massive layoffs and job cuts. Adding to this, a skills gap has been plaguing the technology and manufacturing industries since before the COVID-19 pandemic set in, creating a perfect storm in an exceedingly fragile labor market.
However, companies are still willing to invest in upskilling their current workforce in order to ensure a consistent pipeline of talent within their ranks. Tech giant Microsoft launched a global reskilling initiative to help 25 million people worldwide acquire the necessary digital skills needed in the current COVID-19 economy. In reality, the pandemic has forever altered the labor market on an unprecedented scale, and many people currently unemployed or furloughed may never return to their previous jobs or industries. Instead, there is an urgent and vital need for job seekers to learn new skills in order to compete in industries currently driving the economy such as healthcare, technology and non-durable manufacturing.
As we approach the final months of 2020, this year will become one of the most challenging in so many of our lives. If you yourself have asked the questions, "what's the best course of action in navigating the current job market", or "how do I best learn new digital skills while making a significant shift in my career", this interview is for you. Perhaps you need to navigate your business to a successful economic recovery while expanding the digital skills of your workforce, or you're interested in e-commerce, technology and online learning.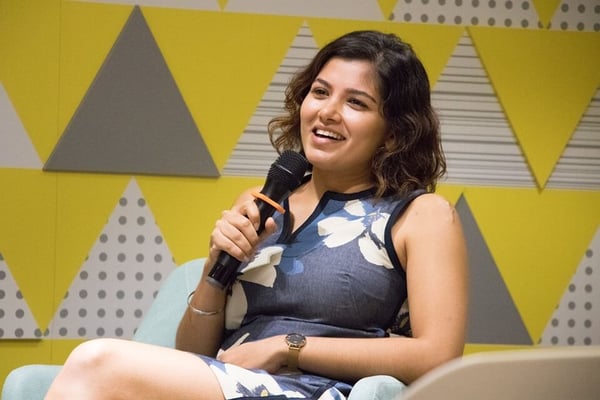 Bhavneet Chahal, CEO and Co-founder of GoSkills
I recently had a virtual sit-down with Bhavneet Chahal, a personal friend and co-founder/CEO of GoSkills.com, a platform dedicated to delivering personalized, bite-sized business courses to working professionals. In this, the first half of our two-part interview, we discuss the motivation behind founding the company, the unique and proven e-learning methods used by GoSkills, as well as how this application works for students and learners from all backgrounds, education levels and career paths.
As the current CEO of one of the most successful online learning platforms, Bhav has completed degrees in molecular biotechnology and entrepreneurship. She founded several startups and has worked at a range of companies, from a biotech company in New Zealand to the world's fastest-growing e-commerce marketplace at the time, Groupon, in Australia. It was during her time at Groupon that Bhav saw the opportunity to create online courses for busy working professionals. She has now successfully grown GoSkills for over seven years.

Tell our audience why you founded GoSkills, and how you're breaking gender norms with this partnership.
Bhav: GoSkills was founded in 2013 after I saw that there was a huge demand for online courses on practical business skills like Microsoft Excel. After personally trying some of these courses myself, I wasn't impressed with the quality of content offered.
GoSkills co-founder Franz Ombler and I worked together in creating the high-quality courses for business professionals that GoSkills is now known for. I had previously worked with Franz in New Zealand, and he brings a wealth of experience as the former CIO of the NZ Treasury. Franz is the tech genius behind GoSkills and developed the technology behind our custom-built platform. Together we manage the various teams while I mainly oversee the non-technology projects such as sales, marketing and product development. We're both responsible for managing the 70+ courses consisting of bite-sized and interactive content and the instructors behind them. We are equals, balancing our unique individual skillset and experience as top assets in our partnership.
What sets GoSkills apart from other platforms?
Bhav: Our biggest competitor operates on a platform where anyone can create content, which results in a wide variety of content with variable quality. GoSkills however, does the legwork for our learners and finds the best instructors for our audience; no need to sift through massive amounts of information or worry about vetting high-quality instructors. We knew from the start we didn't want to have lengthy and monotonous lecture-style content, and that we wanted to focus on practical job skills. All GoSkills videos are 3-5 minutes in length and utilize microlearning, a format that is particularly popular among learning and development managers. Each video lesson comes with quizzes and relevant exercises.
GoSkills isn't just for job seekers--it's also for companies looking to train employees. Tell us how you customize this need.
Bhav: When businesses purchase courses to train employees, they tend to have specific needs, such as reporting, analytics and the ability to create teams and assignments. We started to build out those features over time and inadvertently created a learning management system (LMS). LMS is a training platform that businesses can use to create and incorporate their own internal training courses, alongside GoSkills courses.
Why choose GoSkills over your competition?
Bhav: Customers choose GoSkills because our courses are broken down into short "bite-sized" lessons that are easy to get into and not overwhelming. GoSkills courses are delivered on-demand, which means you can learn at your own pace, and they're practical for immediate use on the job. You can learn a new skill and upskill rather quickly, all you need is a good internet connection and a modern browser.
What skills do consumers consider to be the most quantifiable and tangible, specifically during Covid-19?
Bhav: Hard skills tend to be more popular, such as Microsoft Excel or those that lead to certification, such as project management and Lean Six Sigma (LSS). Other popular skills right now include data analytics skills such as Python and Power BI, as well as introductory coding courses.
Was there an uptick in demand from Covid-19?
Bhav: We saw a 35% increase in demand from businesses from February to March, (business sign-ups) and a further 30% increase from March to April. April and May saw the highest demand in courses, particularly from businesses. This can be attributed to businesses implementing work from home strategies during the pandemic and managers wanting their employees to remain positive and productive during this time. At the height of the global quarantines, everyone was (and still is) looking at online courses to upskill and remain competitive in the workforce.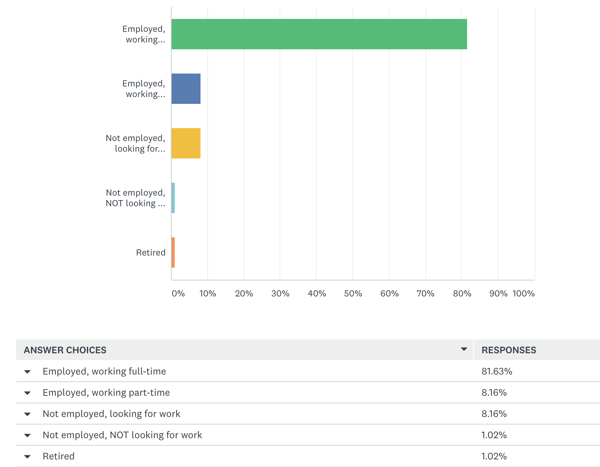 GoSkills e-learners employment status
How has the increasing demand for rapid and constant upskilling changed the traditional education model?
Bhav: There are a number of companies facing the need to upskill their workforce on a consistent and cyclical basis in order to keep pace with the latest digital technologies that make their businesses run. Tech and business practices change so fast with online websites and e-commerce that traditional degree routes and staying in one job for life has become antiquated. One of the factors that led to the proliferation of online courses is the digital skills gap faced by existing employees who need current, up to date knowledge and skills to do their jobs well. Due to this digital skills gap, employers are seeking very specific skills around increasing digital job roles, like marketing analytics for example. With the ability to gain new skills from the internet through just in time learning, online course providers can upskill people quickly, a need that traditional education institutions such as universities are not designed to fill.
Is it the employer or employee that tends to reach out for e-learning?
Bhav: Both. Mostly we see consumer-driven revenue at around 85%, while 15% is from managers looking for skills to train their teams.
GoSkills operates globally, but where are your learners mainly located?
Bhav: 50% of GoSkills learners are based in the US. We also have a presence in India, the UK, Australia, New Zealand and other English-speaking countries. Fun fact-- the ratio of women to men learners is pretty well split at 50/50.
On this same note, is there an age gap in regards to learners?
Bhav: When looking at our analytics, we find that 60% of our learners are between the ages of 18-34. We also see a secondary cluster of learners over the age of 60. The importance of continued education to remain employable seems to be a universal motivator overall consumer ages.
Stay Tuned for the Second-Half of Our Interview
Education and continued education remain powerful tools for learners and businesses alike, and most certainly to a greater extent in the post-Covid-19 business environment. A college degree alone can no longer offer protection from unemployment, upskilling is now vital in the existing labor market. Bite-sized education is especially useful when juggling the new remote work from home environment, while also supporting children in their remote schooling. E-learning enables learners to gain knowledge at their own pace and schedule, it's easily accessible, adaptable and affordable.
We'll post part two of my interview with GoSkills Founder Bhavneet Chahal tomorrow, here on the ABC Legal blog. In the next half of my interview, Bhav and I will discuss how learners can best upskill in their current careers or use e-learning to re-enter the job market. We'll dive into the trends companies are currently looking to offer their workforces, and what skills carry the most impact. You'll want to come back to hear how e-learning is providing consumers a valuable tool in the employment marketplace, and I'll share the story of how Bhav and I met years ago right here in the Emerald City as working professionals seeking to network and travel the world.
Be sure to sign up for email updates on the blog for the latest posts on legal industry news and product insight as well as thought leadership topics, interviews with industry-leading professionals and trending news topics.
About ABC Legal Services
ABC Legal is the nation's leading service of process and court filing company and is the official process server to the U.S. Department of Justice. Docketly is a subsidiary of ABC Legal, providing appearance counsel on a digital, custom-built platform that smoothly integrates with our applications and services. ABC Legal's applications are cloud-based and compatible for use on desktop, browser, and smartphones. Our solutions and digital approach ensure process server partners, law firm customers, and their clients save valuable time and resources when serving legal notices safely and with maximum compliance, control and transparency. ABC Legal is based in Seattle, WA, with more than 2,000 process servers throughout the U.S., as well as internationally in more than 75 countries. To learn more about ABC Legal, our solutions, and subsidiary company Docketly, visit www.abclegal.com.

ABC Legal Services is the leading service of process and court filing provider in the United States and employs an array of experts in service of process and legal technology. ABC Legal provides service of process in all 50 states and 77 countries.
Subscribe to email updates