ABC Legal recently had the opportunity to interview one of our customers, a business law firm who for the sake of their business and clients wishes to remain anonymous. In our interview, this law firm highlighted how ABC Legal simplifies out-of-state service of process. Please enjoy this excerpt of the interview of the case study.
As the nation's leading service of process provider, ABC Legal created an easy to use interface that provides extensive details on service of process to honor the value of their customer's time. An attorney at a premier business law firm in Illinois saw the opportunity for more efficient service of process that saves them time and money with ABC Legal.
A premier business law firm in Illinois has been around for a few years and has quickly grown from local to nationwide work. We spoke with an attorney there about their experience with ABC Legal and how business has been going for them lately.
The Opportunity of Easy Service & Saving Time
This law firm works with a local firm for their local needs. Over the past few years, as their needs have grown from a local standpoint to nationwide, they needed someone they could rely on for out of state service.
"I started using it more mostly because it was easy, it saved me time, and I can track my process service through it. It's been a good experience."
- An attorney at the firm
Easy and simple service is ABC Legal's top priority. We believe in transparent communication with customers and are available to answer any questions that may arise before, during, or after service. While service is occurring, ABC Legal provides notification updates on your serve attempts and completion. Alongside communication, ABC Legal offers a dashboard for access to all active and past orders placed under your account. Your account dashboard is a great place to review old cases, see updates on current ones, and place orders for new ones.
"The option for me is to go and find a local place and make a bunch of independent relationships with process servers all over the country or have ABC Legal do that for me. My goal there is pretty straight forward, have ABC Legal do it - I am kind of outsourcing that administrative piece of trying to find someone each time. Plus it saves me time, that's important."
- An attorney at the firm
Ease of use is pivotal when it comes to the ABC Legal account dashboard. Our simple interface and easy to order process allows more time for you to focus on your client's needs and leaves service of process to us. ABC Legal has up front pricing available for anywhere you need service. Simply upload documents, input the address of who you wish to serve, and submit. ABC Legal provides nationwide, as well as international, coverage for all your service of process needs.
"The online interface and collaboration that you get with the process servers just makes it really helpful. I can initiate a case online really quickly - it is probably faster then when I order with my local server."
- An attorney at the firm
ABC Legal is committed to accurate, efficient, timely service of process. With nationwide coverage, responsive communication, and service update notifications, we work hard so your law firm, like this premiere business law firm, has time to focus on your clients and their needs.
"I would recommend ABC Legal for solving that problem [of using ABC Legal over making individual relationships with process servers all over the nation]. I think it is pretty simple, I don't really have another recommendation I would make to them. They need to look at ABC Legal and I don't know why they wouldn't use you [ABC Legal]."
- An attorney at the firm
Interested in understanding how ABC Legal helped this law firm expand confidently by handling their out-of-state work? Read the full interview and download a copyof the case study to share.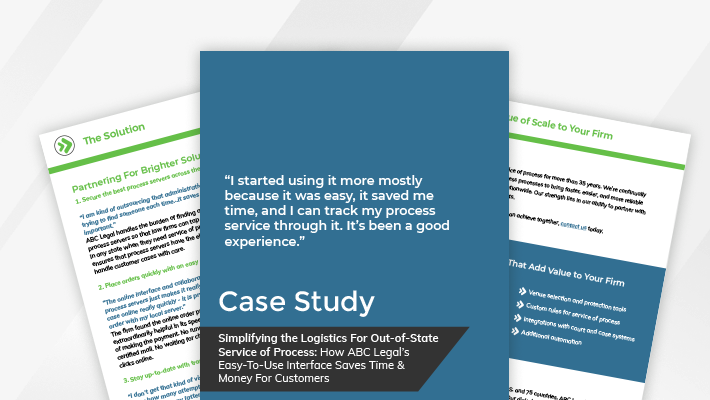 If you are curious about hearing more on ABC Legal's continuous efficiency with the service of process experience, then subscribe to our blog. In need of service of process? Order online today. Want to learn more about how dedicated ABC Legal is to their customers? Read hereabout others' experiences with ABC Legal.
About ABC Legal
With more than 2,000 process servers across the U.S. and 75 countries, ABC Legal is the nation's leading service of process and court filing provider, as well as the Acting Central Authority to the U.S. Department of Justice. Our digital approach saves valuable time and resources, and our cloud-based solutions are compatible for use on desktop, browser, and smartphones. Docketly—an ABC Legal subsidiary—provides appearance counsel on a digital, custom-built platform that smoothly integrates with our applications and services. Learn more at www.abclegal.com.

Marketing Specialist, ABC Legal Services. Olivia uses her passion for creative writing to create engaging media that showcases the quality services available at ABC Legal.
Subscribe to email updates