Fear of automation exists in many industries. It stems from the notion that tech will replace jobs and displace workers beyond their ability to re-enter the workforce. The legal industry is no exception. Technology and automation have the potential to perform certain legal tasks. Yet, they cannot fully replace lawyers. A study from McKinsey suggests that current technology only allows for the automation of about 23% of the legal work. Automation is then an opportunity, but it requires careful implementation to succeed.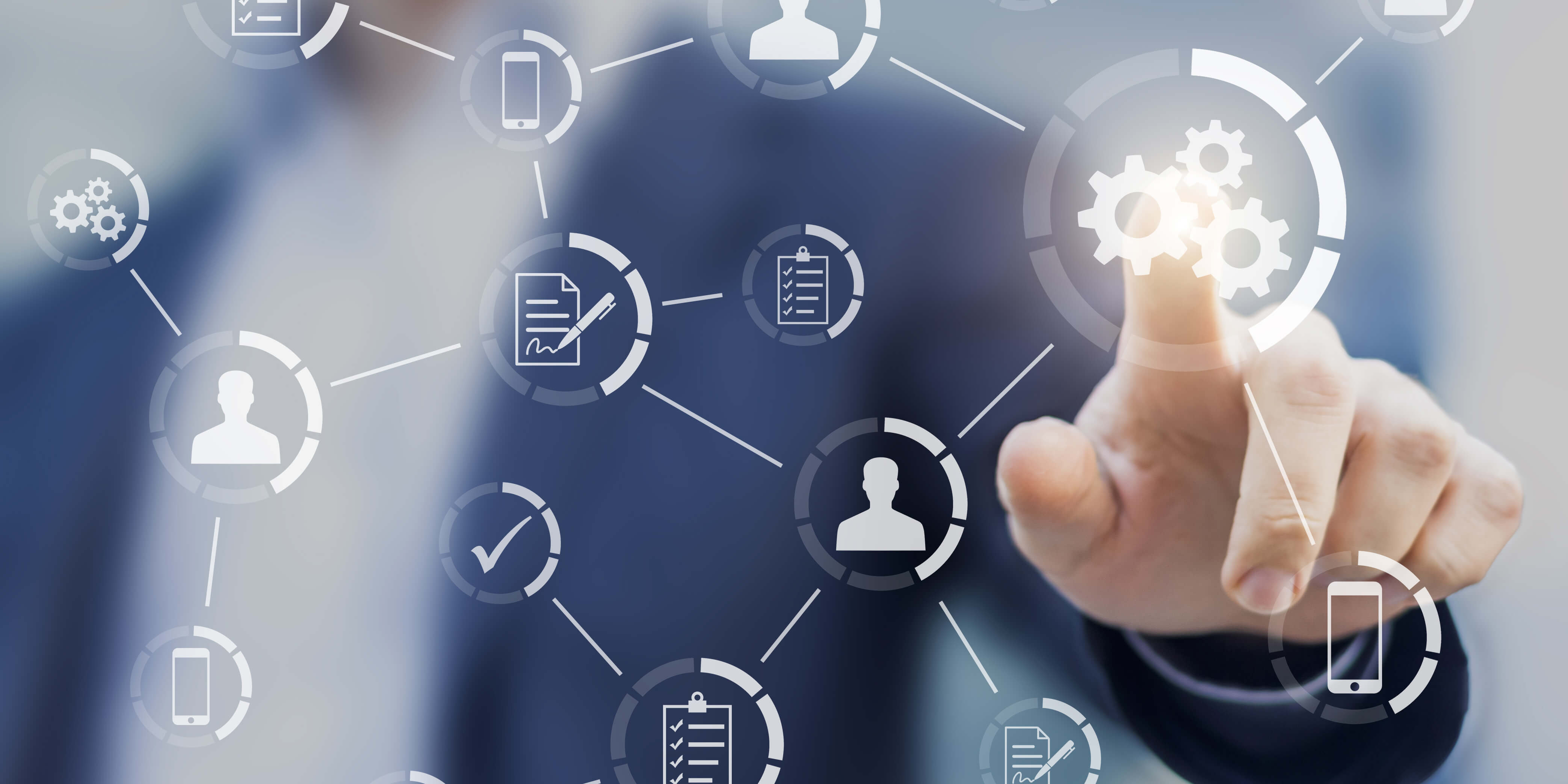 What is Legal Automation?
Automation is the process of using systems and technology to accomplish a task, reducing direct human interaction in portions of the process. Legal automation or law office automation is the application of automation in a legal setting, enabling the automatic completion of legal processes, procedures, or tasks. Law firms can implement automation through the use of software and systems created by third parties, by developing custom systems internally, or as a byproduct of outsourcing portions of the legal process to a vendor using automation.
What Is the Benefit of Legal Automation?
The benefit of legal automation, and automation in general, is its ability to reduce the amount of time spent on generic tasks. Automation has the potential to reduce the number of and time spent on repetitive actions, documentation, and redundant tasks in a day. Such labors are simple, but time-consuming and are often considered non-billable in the legal profession. Meaning, with automation, attorneys and paralegals can spend more time focusing on clients and their cases in their day-to-day and less on mundane tasks.
How Should Law Firms Approach Legal Automation?
Finding the right place to start with automation is intimidating. There is often resistance to automation that comes from previous implementation failures. Some professionals may have found that tech doesn't always seem to deliver on its promises, and the experience has soured their willingness to try again. There are also a lot of options on the market to sift through. The process of automating becomes a matter of finding the right solution that will stay with the firm for the long term and encourage additional automation in the future, should the opportunity arise. So, what should legal professionals keep in mind to successfully implement automation?
1. Understand Current Processes
To automate successfully, law firms should ensure that they understand their own processes fully. Law firms can use process mapping techniques to document and understand the procedures and workflows currently in place in their practice. There are a variety of process mapping techniques to choose from, based on the intended result. Value stream maps, popularized as a lean six sigma technique for optimizing processes with a focus on analyzing process opportunities for maintaining value while reducing waste, are also good options for identifying key processes and opportunities for change. These techniques make it easier to see, edit, and analyze the process.
2. Identify Opportunities for Automation
After mapping a process, law firms can evaluate the workflow and look for segments that could benefit from automation. Processes that can benefit from automation include:
Highly repetitive tasks
Redundant tasks
Time-consuming tasks
Tasks that feel irrelevant or that your team doesn't add value by performing themselves


Repetitive tasks are easy candidates for automation, and pre-existing solutions may be readily available. Redundant tasks, once identified, can be removed or can be candidates for automation. Time-consuming and irrelevant tasks can be automated but may be unique candidates for outsourcing or automation by a vendor. After reaching a full understanding of the processes and identifying opportunities for automation, the firm will need to evaluate its options for automation.
3. Compare Automation Options
As previously mentioned, law firms can implement automation through the use of software, systems, or outsourcing. There is an option to have a solution developed specifically for your process. Such endeavors can create unique, custom processes, but they are a serious commitment. The initial investment of time and resources is obvious; the ongoing maintenance and future updates required by such a system are less so. These costs cannot, however, be overlooked when deciding to pursue software designed specifically for the firm.
Most firms will opt for marketplace solutions for automation. There are a variety of ready-made tools for specific solutions in automation, including legal document automation and legal knowledge automation solutions. There are also suites of integrated technologies, offered by companies like Clio and Plexus. These solutions can drastically change how firms handle their cases and clients but can be costly. Comparing several automation options can help firms better identify the benefits of selecting any given tool and may shed light on additional opportunities to incorporate automation into a process.
4. Understand the Costs and Select a Solution
Whichever direction a firm takes to pursue its automation solution, it is essential to evaluate the overall costs of adopting, implementing, and maintaining these tools. There are costs beyond the initial price tag to consider, such as additional systems, subscriptions, and training necessary to maintain these solutions over time. Comparing what it takes to get and keep a solution going against the resources and time savings the firm gains will help in the selection process.
5. Manage the Change
The successful implementation of any new process requires its full adoption by the team. Careful change management can help firms adopt and adapt to new processes in a meaningful way. The basic idea is to champion the change and monitor it until it's firmly accepted and officially in use by teams. Consider how change is handled at the firm and when changes haven't stuck in the past to guide the do's and don'ts of the adoption process. Legal professionals may want to consult change management techniques and look for opportunities to anchor the change - to make sure the new process sticks and can make an impact.
6. Evaluate, Connect and Expand
The final step is to evaluate or monitor the new process. Not only does this ensure adoption, but it can also highlight weak points in the new process and places for improvement. Once the new technology is in place and performing, there are opportunities to connect different information systems, automating the way that data travels between your case management solutions and the system or software now in place. Some of these opportunities may be identified in the process mapping, but others will present themselves as the firm adopts new technology.
Another connection to consider is a vendor engagement. Outsourcing subsections of tasks the firm deems irrelevant or low-value when done internally can improve a firm's overall output. An example of this is outsourcing specific tasks, like process server sourcing or e-filing to a qualified vendor. The vendor can take care of the details, often employing their own automation tools, and provide the law firm with the solution or service at a set cost. Information about the task and service can be pushed back to the law firm, connecting with other automation or work management tools in use by the firm. It's a low-input method for increasing a firm's automation.
Ultimately, this enables legal professionals to invest time in doing the work that matters to their clients and differentiates the practice. Once a firm is confident in its ability to successfully adopt automation solutions, refining and expanding become simpler, further enabling the optimization of work in a law office.
For more legal industry best practices, helpful tips, and breakdowns on the latest in legal tech, subscribe to the ABC Legal Blog or follow us on social media.
About ABC Legal
With more than 2,000 process servers across the U.S. and 75 countries, ABC Legal is the nation's leading service of process and court filing provider, as well as the Acting Central Authority to the U.S. Department of Justice. Our digital approach saves valuable time and resources, and our cloud-based solutions are compatible for use on desktop, browser, and smartphones. Docketly — an ABC Legal subsidiary — provides appearance counsel on a digital, custom-built platform that smoothly integrates with our applications and services. Learn more at www.abclegal.com.

Product Marketing Manager, ABC Legal Services. Heather combines her natural curiosity and organizational skills to develop content and nurture stories at ABC Legal. A believer in good design and great brand experiences, she looks for opportunities to investigate, design, and create within the brand.
Subscribe to email updates