Your Guide to Faster, More Reliable Service of Process and Court Filing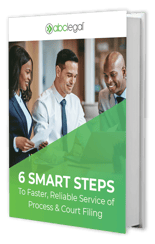 In this guide, you'll discover:
Ways to stop getting dinged by process servers for costs such as multiple attempts, mileage, and other factors unrelated to success
Easy-to-use tools the process server industry has started using to ensure rock-solid proof of service (some you likely already have access to!)
The single biggest—and fixable—cause for failed service, wasted filing fees, and case dismissals
eCourt filing must-knows to save time and improve accuracy
More about this guide:
Are your process servers doing everything they can for you? Learn how to get the best results in Six Smart Steps to Faster, Reliable Service of Process & Court Filing.
Time matters, and your case can't afford to wait. In this eBook, you'll discover what it takes to ensure your documents get in the right hands as fast as possible and without challenge.
Each page brings you a host of time-saving tips and advice. Prevent improper venue and court filing errors, decrease communications needed with vendors, and reduce your vulnerabilities to contested service or vacated judgments.
From eFiling to address validation, we'll teach you the tools and technologies that are transforming service of process. You'll learn about EDI and other trends to speed service, ways to get fastest and most accurate filing, and which key steps need to happen before service of process to prevent process servers from hitting unnecessary roadblocks and delays.