ABC Legal is honored to have been chosen by the legal industry as the top legal vendor in the world.
The Icon Awards were presented by OnCon―an exclusive gathering of the world's top legal professionals where peer level executives network, benchmark and discuss what matters most in an unfiltered environment.
The award recognizes exceptional products and services, strides in innovation, and strong contributions to the legal community through thought leadership.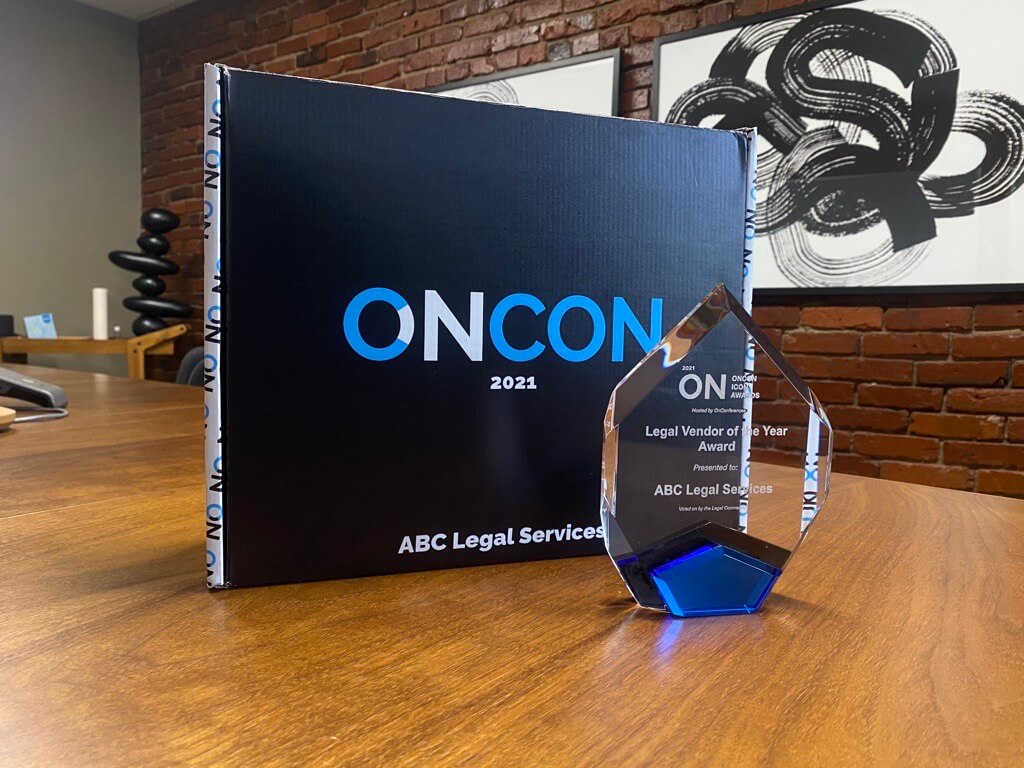 Recently recognized as the gold standard in federal court for keeping people safe, ABC Legal's COVID response practices have helped keep the wheels of justice turning despite the challenges of a global pandemic.
"Being selected by our peers is especially meaningful," said ABC Legal's VP of Products Sascha Mehlhase. "This award belongs to our entire team, those people on the forefront of a technology revolution who are committed to providing quick, accurate and equal access to the best legal system in the world."
Finalists for the Top 25 Legal Vendors of the Year Award were selected based on exceptional products and services, strong contributions to the legal community through thought leadership, and strides in innovation. They include leading legal technology vendors such as Bloomberg Law, LexisNexis, DocuSign, CaseText, OneTrust, Epiq, and Jackson Lewis.
"ABC Legal takes the Fifth Amendment and due process very seriously," said Tim Dinehart, ABC Legal's Chief Operating Officer. "We've designed strict guidelines to ensure that our customers are consistently provided with full transparency, uncompromised compliance and exceptional service rates, which is why we're the only provider trusted by the United States Department of Justice as the exclusive and official Central Authority for all foreign service of process coming into the US from abroad."
About ABC Legal Services
ABC Legal is the nation's leading service of process and court filing company and is the official process server to the U.S. Department of Justice. Docketly is a subsidiary of ABC Legal, providing appearance counsel on a digital, custom-built platform that smoothly integrates with our applications and services. ABC Legal's applications are cloud-based and compatible for use on desktop, browser, and smartphones. Our solutions and digital approach ensure process server partners, law firm customers, and their clients save valuable time and resources when serving legal notices safely and with maximum compliance, control, and transparency. ABC Legal is based in Seattle, WA, with more than 2,000 process servers throughout the U.S., as well as internationally in more than 75 countries. To learn more about ABC Legal, our solutions, and subsidiary company Docketly, visit www.abclegal.com.

ABC Legal Services is the leading service of process and court filing provider in the United States and employs an array of experts in service of process and legal technology. ABC Legal provides service of process in all 50 states and 77 countries.
Subscribe to email updates