Yesterday, Joseph R. Biden, Jr. became the 46th President of the United States, and Vice President Kamala D. Harris became the nation's first woman and woman of color to hold that office during a historic 59th presidential inauguration.
Like their predecessors, Biden and Harris took their oaths of office outside the Capitol Building. Vice President Harris was sworn in on the Capitol steps by Supreme Court Justice Sonia Sotomayor on a Bible that once belonged to the first African American to serve on the Supreme Court, Thurgood Marshall.
The theme of the scaled down inaugural celebration was "America United," which "reflects the beginning of a new national journey that restores the soul of America, brings the country together, and creates a path to a brighter future," according to an announcement from the Presidential Inaugural Committee.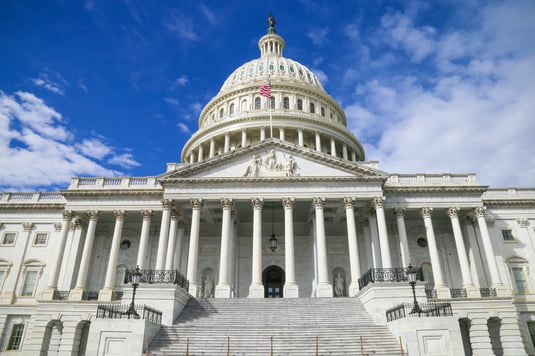 Like most things during a pandemic, the event looked different than past years with nearly 200,000 flags filling the National Mall in lieu of the thousands of people who couldn't attend due to the coronavirus.
Still, the auspicious day was filled with highlights. The celebration started with an invocation from Father Leo J. O'Donovan, a former Georgetown University president, and the Pledge of Allegiance led by a firefighter from Georgia named Andrea Hall.
Lady Gaga sang the National Anthem, while Jennifer Lopez performed a mash-up of "This Land is Your Land," by Woody Guthrie, "America the Beautiful," a line of the Pledge of Allegiance in Spanish, and "Let's Get Loud" from her 1999 debut album "On the 6."
Garth Brooks sang "Amazing Grace," and the alma maters of Biden and Harris—the University of Delaware and Howard University performed drumlines.
Actress Keke Palmer hosted the first-ever curated livestream for kids before and during the inaugural ceremonies. It was streamed online by the inaugural committee, PBS News Hour and Amazon Prime Video, and also broadcast by Nickelodeon and Discovery Education.
For many though, the star of the show was 22-year old Amanda Gorman from Los Angeles — the youngest inaugural poet in U.S. history, who read her poem "The Hill We Climb," on unity in the U.S.
"We will not march back to what was but move to what shall be, a country that is bruised but whole, benevolent but bold, fierce and free," she said. "Let the globe, if nothing else, say this is true: that even as we grieved, we grew, even as we hurt, we hoped, that even as we tired, we tried, that we'll forever be tied together victorious, not because we will never again know defeat but because we will never again sow division."
President Biden's Inaugural Address followed as he voiced messages of overcoming the coronavirus and unifying the country while celebrating the "triumph" of Democracy.
"We've learned again that democracy is precious. Democracy is fragile. At this hour, my friends, democracy has prevailed," he said. "This is a great nation. We are good people. And over the centuries, through storm and strife, in peace and in war, we've come so far. But we still have far to go."
About ABC Legal Services
ABC Legal is the nation's leading service of process and court filing company and is the official process server to the U.S. Department of Justice. Docketly is a subsidiary of ABC Legal, providing appearance counsel on a digital, custom-built platform that smoothly integrates with our applications and services. ABC Legal's applications are cloud-based and compatible for use on desktop, browser, and smartphones. Our solutions and digital approach ensure process server partners, law firm customers, and their clients save valuable time and resources when serving legal notices safely and with maximum compliance, control, and transparency. ABC Legal is based in Seattle, WA, with more than 2,000 process servers throughout the U.S., as well as internationally in more than 75 countries. To learn more about ABC Legal, our solutions, and subsidiary company Docketly, visit www.abclegal.com.
Subscribe to email updates