According to a recent report by the Federal Trade Commission's Consumer Sentinel Network, credit card fraud has become the top form of identity theft in the United States, and globally.
Between Q1 of 2019 until Q1 of 2020, there was a shocking 104 percent increase in credit card fraud reports, which is nearly quadruple the amount reported from 2017-2019 altogether. This surge highlights the need for consumers to take a proactive approach in mitigating the risk of becoming victims of this type of crime through awareness and preventative measures.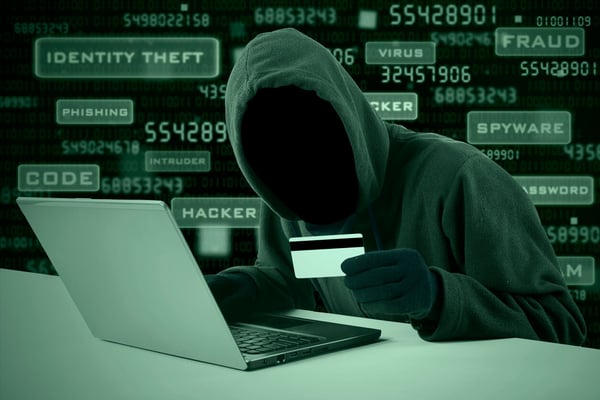 What are the Ways Hackers Steal Credit Cards?
There are many forms of identity theft, but credit card fraud has fast become the most prevalent in recent years. Keep in mind, credit card fraud isn't a one and done. There are a number of ways credit card fraud can be carried out. It's important to understand all the nefarious ways perpetrators carry out credit card fraud, particularly as hackers and thieves have become more and more skilled at stealing financial data online. (click on embedded links to learn more about each)
Skimming, or Counterfeit Card Fraud;
Of all of these types, account takeover is the most devastating for account holders because not only do their finances get impacted, many times they aren't even aware of the fraud, due to perpetrators changing contact information and robbing them of the ability to access the compromised account. Without notice or action, those accounts will become outstanding and impact the actual card holders credit score. Thankfully, there are fraud prevention departments that can assist you through most all banks, credit card companies and the national credit bureaus.
What Are Some Essential Steps to Avoid Credit Card Fraud?
Like other forms of identity theft, an ounce of prevention can go a long way in preventing credit card fraud from occurring. Consider some of the proactive tips below to avoid becoming a target of credit card fraud, and what to do if you suspect you are.
Safeguard Your Personal Information
Since data breaches and improper storing of sensitive personal information are the leading ways for identity thieves to steal credit card information, it's advisable to avoid questionable websites when shopping. Don't save passwords or login information for autofill by Google, and always be careful with the type of emails you open.
Many times, malware is secretly embedded in attachments, and once installed without the victim's knowledge, credit card information and other sensitive data are compromised. This type of deception via email, and even social media messenger apps, is called phishing.
Keep a Mindful Eye on Credit Activity
Another important method to stay ahead of credit card thieves is to regularly perform credit checks and review bank statements, even for accounts with no balance or are perhaps used less often. Credit reporting agencies such as Equifax or TransUnion have options for filing disputes against reported transactions that are fraudulent and affecting credit ratings. In addition, banks now offer this same service when an unauthorized purchase occurs. These departments have resources to quickly and effectively assist you when this happens.
Due to the increase in credit card fraud since the pandemic arrived in March, the top three credit bureaus in the United States are providing free access to credit reports weekly. These agencies are:
Individuals with a valid social security number are automatically granted a free credit report annually from AnnualCreditReport.com, which is backed by federal law. However, free weekly access has an expiration date of April 2021.
Another step to protect credit accounts against identity theft involves putting a credit freeze in place. This step is highly effective against unauthorized inquiries into an individual's credit report, which can place all access to all your accounts in your authorized, two-step assurance hands. This can be done by going online or reaching out to all three major credit bureaus as they each offer this service. Just keep in mind if you go to open a new credit card, finance a vehicle or take out a loan you'll need to take extra steps to allow authorized access to your credit. This is perhaps the most secure method of protecting credit and if you suspect your identity has been stolen or your personal information has been hacked a credit freeze is highly advised by experts and financial planners.
Immediately Report Suspicious Activity (Seriously, Immediately)
If you fall victim to credit card fraud, do not lose hope. Sure, temporarily panic, but rest assured you do have options. After being scammed and realizing it, there are ways to get your money back, have the unauthorized charges removed and your life restored. Liability protection is now a popular offering from credit companies to their cardholders and will ensure that disputed charges are not the responsibility of the covered victim.
Creditors who do not have this type of supplemental insurance can turn to the Fair Credit Billing Act (FCBA), which provides federal relief to cardholders who have experienced fraudulent charges on their credit card accounts. The maximum liability for fraud victims under this provision is $50, that means the most you'll owe is $50 once the issue is settled. Banks and credit cards have a liability amount for customers.
Check with your bank on their minimum fraud liability, that is how much you'll be on the hook for if your accounts fall victim to any forms of fraud under their services. Some banks minimum liability for customers in the case of fraud can be as high as $500, while others have zero liability. Equipped with that knowledge, ask yourself if it's worth making a switch. Additionally, the Electronic Funds Transfer Act (EFTA) minimizes cardholder liability, but how much is dependent on how soon the fraud is reported.
Conclusion
While credit card disputes take time to get resolved, and create a situation best to avoid, it's a real and growing threat and one that shouldn't be taken lightly. With a few proactive steps and a little due diligence, it's possible to lessen the risk of becoming a victim of credit card fraud, and if you do---lesson the impact.
About ABC Legal Services
ABC Legal is the nation's leading service of process and court filing company and is the official process server to the U.S. Department of Justice. Docketly is a subsidiary of ABC Legal, providing appearance counsel on a digital, custom-built platform that smoothly integrates with our applications and services. ABC Legal's applications are cloud-based and compatible for use on desktop, browser, and smartphones. Our solutions and digital approach ensure process server partners, law firm customers, and their clients save valuable time and resources when serving legal notices safely and with maximum compliance, control and transparency. ABC Legal is based in Seattle, WA, with more than 2,000 process servers throughout the U.S., as well as internationally in more than 75 countries. To learn more about ABC Legal, our solutions, and subsidiary company Docketly, visit www.abclegal.com.

ABC Legal Services is the leading service of process and court filing provider in the United States and employs an array of experts in service of process and legal technology. ABC Legal provides service of process in all 50 states and 77 countries.
Subscribe to email updates