Service of Process for Divorce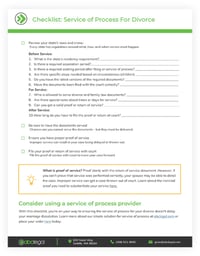 In this checklist, you'll discover:
Steps to ensure smooth service of process, from start to finish
Areas of consideration when reviewing state and court legal requirements
Information about the importance of proper service and the impact it can have on your case
More about this checklist:
Proper service of process can play a key role in timely dissolution of marriage. Do you know the steps you should take prior to having documents served? Not all states work the same and how well you're prepared can affect how efficiently and effectively a process server can carry out their duties––which can dramatically affect the speed and success of legal proceedings. 

If you are beginning the divorce process or new to using process servers, then this checklist is for you.