After Completing a Job
(Note: Process servers in Shelby county will follow a different process. Please contact Julie Acosta for more information.)
Once you have completed an order, you will be sent an ABC Legal-generated proof of service/non-service. You will need to sign and return this proof to ABC Legal in the instructed manner (this can vary, as some proofs will be eSign, while others require a notary signature and then to be scanned and emailed to docattach@abclegal.com).
ABC will then mail you a packet of materials. This packet contains the Original Warrant, a filing coversheet, and a copy of your signed proof of service. You must take the following steps within 1-2 business days of receiving this package.
As soon as you receive this bundle of materials, you must go into your ABC Mobile app, find the relevant order, and hit "Documents Received" at the bottom of the order. Confirm that you received the documents. Do not touch the order in ABC Mobile again until the documents have been filed.
Fill out and sign the Original Warrant. Every Warrant has a section to be completed by the process server. This must be completed before the Warrant is filed. The section to be filled out will look similar to the below: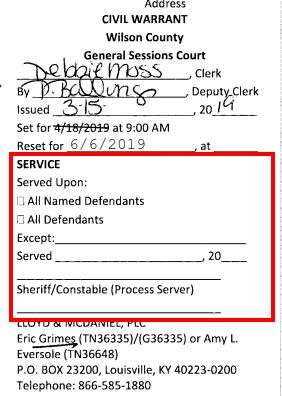 5. The order in ABC Mobile and the filing coversheet will both have the address of the court that documents are to be filed in. Go to the listed courthouse with the entire bundle of materials you received. The Original Warrant and Proof are to be filed.
6. After filing is complete, open up the relevant order again in ABC Mobile. At this time, hit "Documents Filed" and confirm.
See Also: Tennessee - General