Proof Procedure
When receiving a new order from ABC Legal, the court-issued proof will be sent along with the documents. A new blank proof will also be sent to you at the order's resolution. Only one of these proofs needs to be completed and sent to ABC Legal.
Submit Information in ABC Mobile and In Your Notes
As always, document everything related to the service of an order via ABC Mobile and in your notes.
Though there are two sections on the proof, you will only need to complete one section depending on the order's outcome - Served or Not Served. (Keep reading below)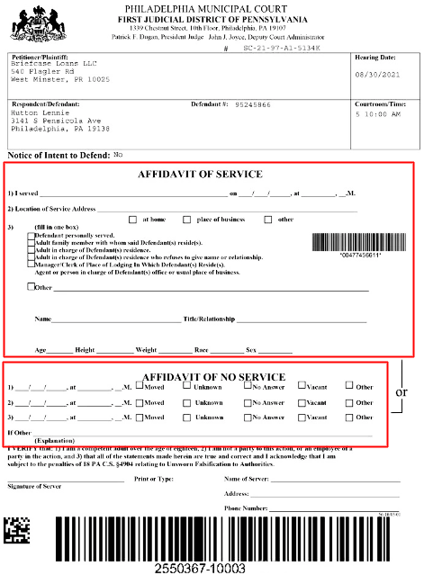 Proof Submission
These proofs are then sent to docattach@abclegal.com. Timelines are critical with Philadelphia proofs because every case has a predetermined hearing date. Once you have resolved the address, you will be emailed a duplicate copy of the same court-issued proof you received when the job was assigned.
After a Service
When recording a service please be sure to fill out all necessary requirements marked below: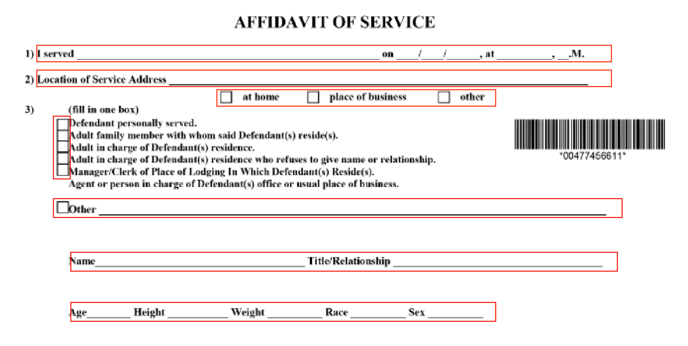 After a Non-Service
Upon completion of a non-service, enter your most recent three attempts in the court-provided blanks on either of the proofs you received.
Though there are only three blanks provided, the due diligence that is required of you will extend past three attempts. ABC Mobile will automatically close the order and provide you a proof when due diligence is met.