When are people home?
You might think that most people work 9-5 jobs, Monday through Friday, and well... you'd be right! It's for this reason that the best process servers work the opposite schedule. A majority of successful services occur between 4-8 PM. Practice mindfulness and working with intent. Our greatest success as a business is when you, the process server, are doing the best you can to reach someone at each address.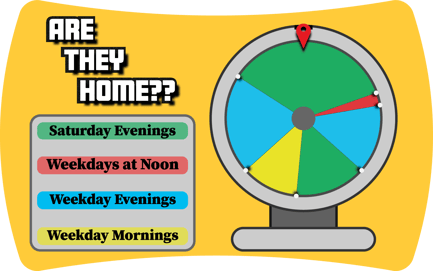 Calling available phone numbers every time that you do not receive an answer at the door can be very helpful in increasing the likelihood and timeliness of resolving the job. (Do not seek out a phone number if one is not provided to you, and do not place a call if local regulations prohibit it).
How should I dress?
While ABC Legal does not have an official dress code, the expectation is that you represent yourself and the company respectfully. Dressing business casual will only increase your odds of success. Imagine the situation from the perspective of the servee: a stranger has approached their door and knocked with documents in hand. They are far more likely to answer for someone who appears to be on their doorstep in a professional capacity.
How should I act?
Introduce yourself, and speak warmly and friendly. If you offer your name to the individual at the door, they are far more likely to be forthcoming with information. Be direct about your intentions - "I have legal documents for (First name, Last name), do they live here?"
You are as much customer service as you are legal document courier. You are representing yourself, ABC Legal, our customers, and the courts, so treat everyone you meet with respect and speak honestly.