Policies and Procedures
General Rules of Service
When performing Substitute Service, the co-resident must be at least 15 years of age or older.
In Florida you are not allowed to serve or contact a party listed for service on a Sunday.
Before serving the documents, you must put your name or initials, process server registration number (if applicable), as well as date and time of service all on the first page of the documents to be served.
Serving Businesses
When serving a business, a Registered Agent (RA) will always be available from 10 am to Noon each business day.
Attempts at service on a business may only occur from 10 am to noon on business days.
Sub-Service: If the RA is not available, try to find an employee that is authorized to receive service of process, making sure to obtain their title before serving them the documents.
Serving at Registered Agent's Home Address
A Registered Agent may have their home address registered instead of the business, in which case they must be available for service from 10 am to Noon each business day.
Sub-Service: If the RA is not available, normal sub-service rules for an individual apply: you are allowed to serve any co-resident, provided they are 15 years of age or older.
Private Mail Box Facilities
If you arrive at a private mail box facility, do NOT serve the documents unless you have specific instructions to do so in ABC Mobile or on your coversheet. Instead, inquire within whether the named defendant has a private box at that location. Then enter an Attempt in ABC Mobile, noting that the location is a mail facility, and whether the subject has a box at this location or not.
If the subject has a box at this locations, we may come back to this location to serve, after we have exhausted all possible home addresses.
Eviction Notices
(Also called: Service of process in action for possession of premises)
Eviction Notices should be served to any resident on the first or second visit. If you aren't able to serve and individual either time, they should be posted on that second visit.
No more than 2 visits to the address will be necessary, but they must be at least 6 hours apart.
Example history in ABC Mobile of posting an Eviction Notice: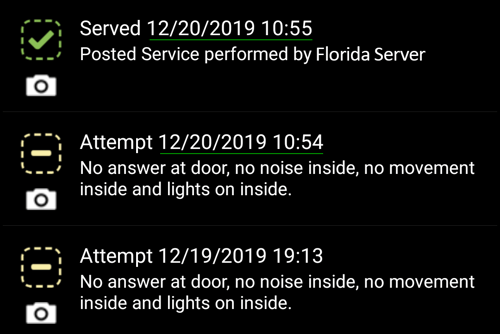 Gated Community
Florida law requires that a gated community allow you unannounced entrance for service of process in that community.
"A gated residential community, including a condominium association or a cooperative, shall grant unannounced entry into the community, including its common areas and common elements, to a person who is attempting to serve process on a defendant or witness who resides within or is known to be within the community."
If you speak with a worker or guard at the gated community, ask if they can confirm the subject's residency. If they do not know, explain that you are attempting to serve the subject and ask them to grant you access to the location.
If a worker refuses to provide you access to the property, you can call the authorities for assistance.