Policies and Procedures
Substitute Service Rules
In California, substitute service can occur once a reasonable effort to perform personal service has been attempted and documented. In practice, this means that 3 attempts must be made and documented on 3 different days before substitute service can be performed. When sub-serving, we must have confirmation that the defendant lives or receives mail at the address. The recipient of the documents must be 18 or older and live at the address.
Some courts and customers require specific attempts before substitute service is allowed. These will always be noted in your app or coversheet and must be completed before substitute service can occur.
You can even substitute serve on the third trip, provided you enter an attempt in ABC Mobile before the service. Here's what that might look like: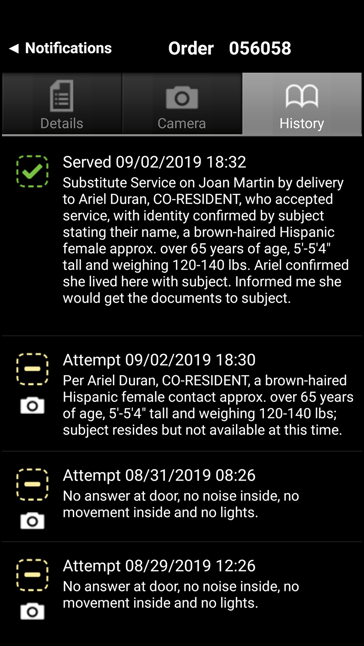 Note the entry logged at 18:30 on 9/2. This attempt shows the process server making an attempt to personally serve the documents. The server was able to speak with a co-resident who indicated that the defendant lives at the home, but was not available at the time. Substitute service was completed on the same visit two minutes later, but only after the 3rd attempt was entered.
It won't always be the case that someone opens the door after three attempts. In this case, continue to try and meet Due Diligence.
See also: Substitute Service; Personal Service; Due Diligence
Service at Place of Mailing
If the service location is determined to be a usual place of mailing for the subject, substitute service may be executed. In other words, if you speak to a resident who confirms that the servee receives all of their mail at the location but it is not their usual place of residence, you may serve.
When considering substitute service at a usual place of mailing, consider the likelihood that the documents will in fact be received by the subject. If you do not reasonably believe the sub service will result in the reception of the documents by the subject, most likely neither will the court.
It is better to mark an address with indicators that they do not reside than execute a sub service to a questionable place of mailing.
Service to a Private Mailbox Facility
Substitute service is allowed on the first attempt at private mailbox facilities. Private mailbox facilities include UPS and Fed-Ex facilities, as well as smaller privately owned businesses.
Process servers must verify the subject is a box-holder at the location.
Service at United States Postal Service locations is strictly disallowed. Under no circumstances does a USPS qualify as a private mailbox facility.
California Proof of Service Example: