What ABC Mobile Looks for on Every Submission
A process server shall make attempts on each job within 48 hours of receipt and within every 48 hours after. Services or attempts should be submitted according to ABC Legal reporting requirements:
Using the ABC Mobile app
At the service location
With the device's GPS turned on
Submitted immediately following the service or attempt
A photo accompanying each reported activity
The only exception to the above requirements is when safety is at risk. A process server may leave the area and record the event details - including how the scenario became unsafe - once they have retreated to a safe location.
Taking Pictures
The pictures you take in the field help support your attempts and services. Photos should include unique attributes to the address, such as:
House numbers
Vehicles on the premises
Packages clearly visible with the subject's name
An overall view of the property or address
The documents themselves in the case of a posting
Anything that adds evidence to observations you reported, such as broken windows or overgrown plants in the case of reporting a vacancy.
Avoid including in your pictures:
Any people
The interior of your car
Trees or obstacles that block the view of the property or house numbers
Note: You can take pictures before and/or during a submission in ABC Mobile.
Missing a Reporting Requirement
If you ever submit an attempt that is flagged as not meeting a Reporting Requirement, it will be necessary that you respond at this time. Simply explain the circumstances that prevented you from meeting these requirements in ABC Mobile. If you do not provide an answer ABC Legal will be unable to process the order further. and the order will appear under the heading "Respond to Notifications". To fix this, you must go to your Notifications tab in ABC Mobile (or log in online to respond) and provide an answer.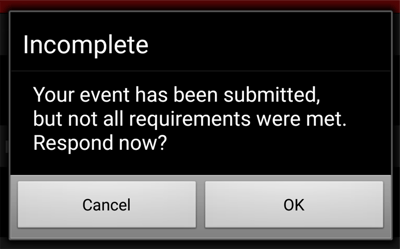 Regularly Not Meeting Reporting Requirements
If these requirements are not regularly met, and your reporting requirements get too low, a hold will be placed on future work being dispatched to you and your areas may be reassigned. To prevent this make sure to manage your workload carefully. You decide how many areas you work, and those areas will always tell you the expected jobs per month.
See also: