Internationals, Child Support, and More
"Original Documents" is the blanket term used to describe the master copy of legal papers. Most documents you receive are simply a scan, photocopy, or printout of the pages that were filed at court. Original Documents are unique in that they are the very same pages that have been handled since the beginning of the court proceedings. It varies by the jurisdictions, but Child Support cases, Subpoenas, and International Services are frequently served as Original Documents.
How do I know if I've received Original Documents?
Original Documents will always be mailed to the address we have on file for you. Most will have a colored coversheet, and all will state "Return Original Documents" on the coversheet.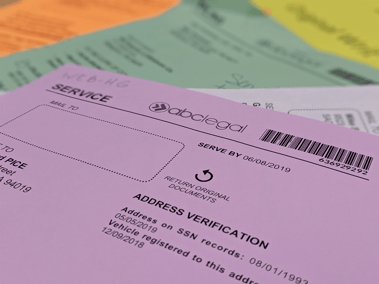 What do I do with Original Documents?
Serve them! They should be served just like any other job you receive. Pay close attention to the special handling instructions, as originals often have unique requirements to be aware of. There are a few key differences to note:
You can only serve at the address listed on the coversheet and in your ABC Mobile App. You cannot meet a servee at a neutral location, and you cannot attempt service at a new address if you happen to receive one. You should simply mark the location as having Non-Residency Indicators in the App.
Never Shred them! If an order with Original Documents is Non-Served then you must mail the documents back to ABC Legal. Again, these are the only copy we have, Do Not Shred Them! In the event of a Non-Service, mail the documents back to ABC Legal using the attached Business Return Envelope.