Last Updated: July 8th, 2020
Follow proof section instructions
At this time you should follow whatever instructions you see in your proof section: eSign, email a scan, or mail original.
If you need to mail originals, make sure NOT to email us a copy (except Rhode Island servers).
Where can I Claim Jobs?
Any jobs we we need a server for will be listed in Manage Areas under Jobs Available. This list is updated hourly and each time you sync the app. Once you claim a set of jobs they are yours, though require around 15 minutes for processing.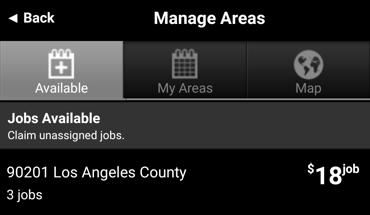 Where can I sign the New Guidelines and Expectations?
You can sign our New Guidelines and Expectations Here.
How do I request a new option in ABC Mobile?
Tell us what new options you need here. We want to know what scenarios you keep running into that don't offer an option at the press of a button. The more options we add, the more quickly we can close jobs automatically and get you a proof to sign that much faster.
How do I reach ABC Legal when I have an issue?
You can reach out to us by pressing the Support button on the home page of ABC Mobile, or Contact ABC in the top-right menu any of the resource pages.
I have not yet received a personal protective equipment kit. How can I get one?
We are sending these kits to all process servers who have taken the COVID Requirements Training.
If you have taken the training, and several days have passed without your kit arriving, then we likely need to send you another one. If you have not yet received your PPE kit please let us know by submitting a request here.
Where is ABC Legal serving?
ABC Legal is now open for service in almost every state.
Except the states of: Connecticut, and Michigan.
How is serving different now with COVID-19?
See our new COVID-19 Safety Guidelines to review our new requirements for serving at this time.
Why are you not sending out more UPS Labels?
We are moving away from processing as many physical proofs, so any and all proofs you need to mail us you can send to docattach@abclegal.com instead. We have made this change as a necessary adaptation to the COVID-19 outbreak, and to pay for your efforts sooner.
We will continue to process any proofs you already mailed and any that arrive over the next few weeks.
Do overdue proofs keep me from getting more work?
No. Though we need proofs back as soon as you can get them to us, overdue proofs do not impact the amount of work you receive.
Can I eSign proofs from my computer?
Yes! You can always sign in at abclegal.com using your same email and password as for ABC Mobile, and go to the Sign Proofs tab to sign any of your proofs.
How do I print documents?
Log in to www.abclegal.com using the same username and password that you do for ABC Mobile, and use "Print Service Documents" to print up to 10 documents at a time.
You can also go to "Packing List", select the document, and press "View Service Documents".
If the system will not produce the documents, it is because they are original documents and cannot be printed out.
Why does ABC Mobile log me out so frequently?
You may experience that ABC Mobile logs you out more frequently than other apps you use. This helps keep your information, and that of anyone we are serving, better protected.
How do I prioritize all these different instructions in ABC Mobile?
In the following order: Court, Customer, ABC Mobile. For a more in-depth answer see An Order's Requirements.
Does my state have specific rules I need to follow?
It's quite likely. Find out by checking the State Specific Information and Policies page.
A defendant called me and gave me additional information, what do I do?
If someone calls you regarding a job, open the job, click the telephone icon to the right of their name, and enter the phone number and information that they gave you.
Watch a detailed video on how to record phone calls: Logging Phone Attempts.
What do I do if I don't have good data coverage in my area?
Before you enter an area with poor coverage set your device to airplane mode, then submit any serves or attempts as you normally would, pressing confirm at the end. All this information will be stored on your device: pictures, the time the event occurred, and the time you entered the information. When you are in an area with good coverage again take your device out of airplane mode and everything will be submitted normally.
My attempt didn't go through
Don't worry, if you've synced ABC Mobile and your attempt isn't there, just resubmit it! If you have significantly moved your position you may receive an Incomplete notification saying your GPS must match the expected location. That's okay, we understand that these things happen. Just respond with the explanation that the original attempt didn't go through the first time.
A defendant wants to meet me somewhere. What should I do?
First, record how you got the information by submitting an attempt or a phone attempt. Then check to make sure that this meeting spot is in the same county as the original address. If it is, you can meet the person and serve the documents. Afterwards, enter the address using the "+" icon to the right of the defendant's name. See more: Meeting at a Neutral Location
I think this person is trying to avoid service. What should I do?
Document it! Describe exactly what you are seeing in ABC Mobile so that it would be clear to anyone reading your proof that they are avoiding. Making 3 attempts of "No contact, no movement, and no lights" before writing, "I think this person is avoiding" is insufficient. Remember, your proof needs to convince the court and the customer that the person is avoiding.
I have so many serves. Which ones do I go to first?
Let ABC Mobile do the planning for you. The Route Plan feature will set up a route for you to follow with a tap of your finger. No more manually entering addresses into Google Maps! See also: The Car Button.
An area is no longer assigned to me! Why? How can I get it back?
Your Primary Areas can and will be claimable as long as you are considered exceeding your capacity. If you would like to prevent them from being claimed it would be advised to drop zip codes that are currently too far so that you can ideally work in a much more condensed and efficient area at the end of the day. For more on Capacity check out the Manage Areas page.
How do I get set up to E-sign proofs?
If you've received an E-sign proof, then check out our E-sign Proofs Page.
Someone threatened me or ordered me off their property and told me not to come back. What do I do?
Leave the scene. Call 9-1-1 if necessary. Once you are safe, report an attempt in ABC Mobile and select the "Hostile Environment" option under the 'Result' menu. Then provide any necessary details.
Why does my app not reflect current information?
The sync button should be your best friend. This button in the top left of the home page should be pressed every time you enter new information into the app. Submitted a proof? Sync! Reported a new attempt? Sync! Most issues arise because your app has not recently communicated with our system. See more: ABC Mobile.
How do I download ABC Mobile?
Go to your App Store if you have an Apple device, or to your Play store if you have an Android, and search for ABC Legal. You'll see our app "ABC Legal Services Mobile" with our logo, and select "Install".
How do I report an issue with ABC Mobile?
First try deleting the app, restarting your device, and reinstalling ABC Mobile.
If the issue still persists, Send us a Request Here with:
Specific details about the issue.
What type of phone and operating system you have
What version of ABC Mobile you have (found in profile)
There is a "No Trespassing" Sign. Am I allowed to serve them?
When serving process, you should not trespass. In the event that there is a "No Trespassing" sign on someone's private property make note of it in your attempt, and make sure to include a picture of the sign in your submission. See more: Trespassing and Barriers
Are there holidays I should not serve on?
The only days you cannot serve with ABC Legal are Thanksgiving and Christmas Day. You are free to serve the other 363 days of the year.
Didn't find the answer to your question in the FAQ?

Search using the toolbar! There are plenty of articles that may have your answer.
You can also reach out to Partner Support by Sending a Request Here.