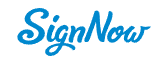 E-Sign proofs, or eSign, will be completed through the SignNow App on your mobile device. The first time you receive an E-Sign proof, you will be prompted by ABC Mobile to download the SignNow app - please do so. Tap the screen to add a date or signature as necessary before hitting the check mark in the upper right corner to submit. ABC Legal will then be immediately sent the proof.
E-Sign proofs should be given the same level of review as physical proofs when completing. These are the fastest and easiest proofs to sign and return, so process servers can be prompted to inadequately review the document. Make no mistake, ease of use does not preclude care.
A notary is never required on E-Sign Proofs.