Return on Service
In Alabama, we send you the the court-issued Service Return to e-sign upon completion of a job. Once you have resolved an address, you will open the proof in ABC Mobile and fill out the entire section labeled RETURN ON SERVICE.
The service return must list 2 dates: both the date of service, and the date of signature. Ideally these dates are identical, because you should be signing your proofs at the end of every day. Either way, you must list the correct date of service on the service return.
All action taken related to service of process must be logged in ABC Mobile - attempts, services, and non-services. But it is important to note that ABC Legal cannot generate service information on the Return of Service. For this reason, you must take notes on every service or non-service separately from ABC Mobile; that way you have a source from which to copy your notes.
Listing substitute service correctly
Substitute service must be completed on a family member in Alabama. A roommate is not legally allowed to accept service. In the event of a sub-service, make sure to obtain the first and last name of the person accepting the documents on behalf of someone else, as the person's full name has to be on the proof submitted to the court.
In cases of substitute service, you shall write on the service return: The sub-servee's full name, their relationship to the defendant, the words "for and on behalf of," and the defendant's name. In practice, that will look like:
Jessie Ventura, brother, for and on behalf of Ace Ventura.
Non-serves
A Non-Serve in Alabama is noted by writing "Non-Service" in the section where you would put the name of the person you served. See example below.
Service Return Examples
Service Return Copies may look slightly different from county to county, but here are a few examples for you to familiarize yourself with. Shown is only the bottom section that you would fill out.
Served

Non-Served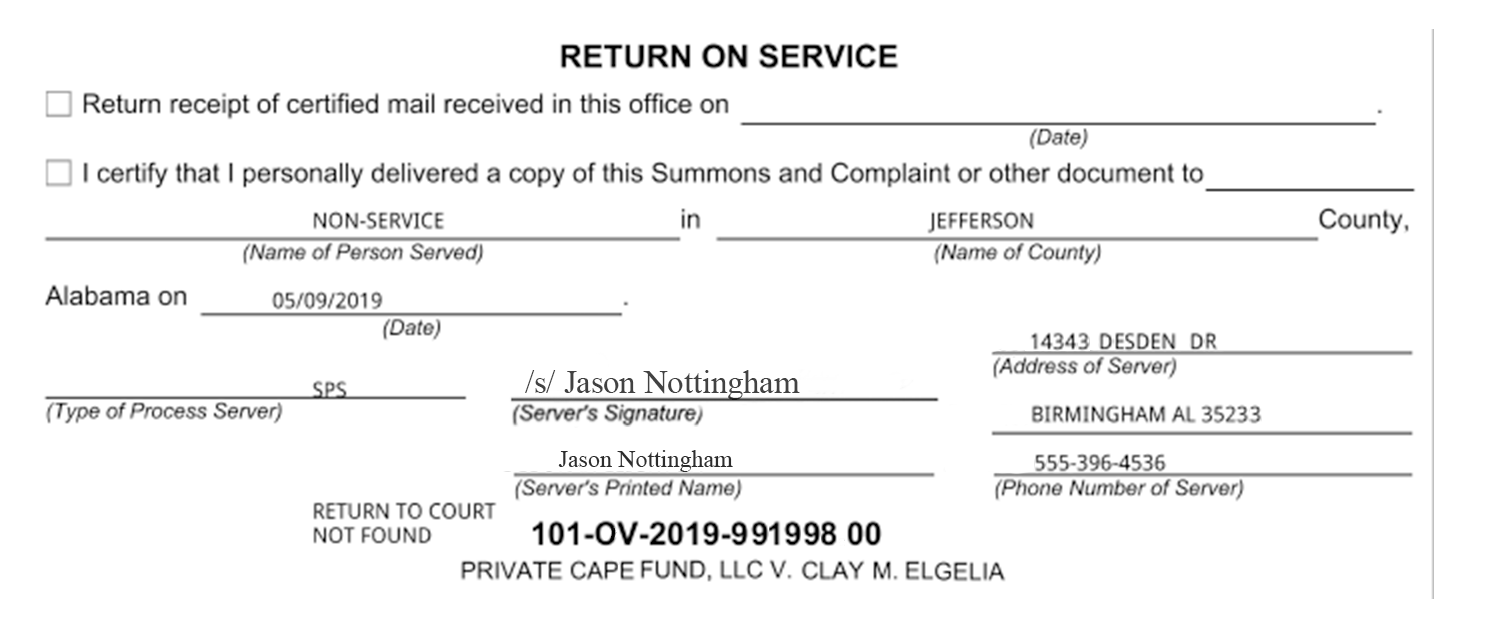 E-Signing Alabama Proofs

When E-Signing a document in Alabama place an /s/ in front of your signature. Alabama courts require this on any document that is electronically signed and will be rejected by the court without it.